Spicy Fish Roast ~ Meen Varuval recipe
Spicy Fish Roast or Meen Varuval recipe is simple yet perfect recipe to choose to get the spicy masala coated fish fry. Often we tend to choose recipes in which the masalas does not tend to stick to the fish or tastes tangy or sometimes bland. But this is perfect recipe and will suit for all types of fish. Coats well in fish and turns out crispy and roasted. It is super easy recipe and sure shot success to impress your guests at first attempt. 🙂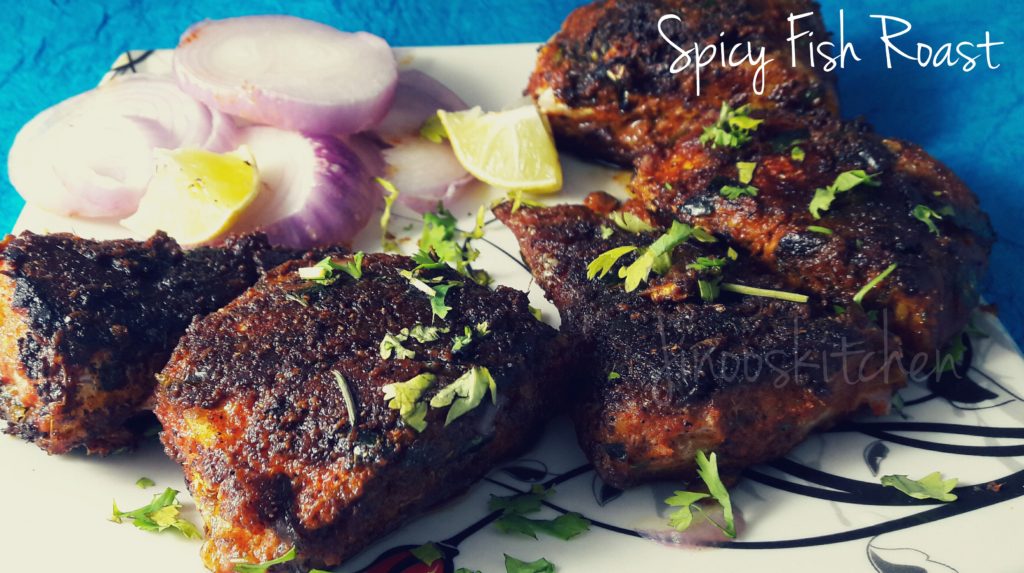 It's about the method of marinating and refrigerating before roasting the fish. Ingredients may be the same but small variations in the method of cooking will bring out lot of changes in final recipe. Take a bowl and put in all the spice powders and ingredients needed for marination. Put in turmeric powder, chilli powder, Red chilli powder, Ginger garlic paste, pepper powder, Curd , lemon juice, very finely chopped coriander leaves, very finely chopped curry leaves, salt and oil. make a thick paste of this. Oil in the marination is sufficient to make paste, If not added few drops of water. Let the paste be thick and not watery.
Now its time to coat the masala in the fish. If the fish pieces are thick, Either prick them around deep but gently with fork or slit then with knife so that Masala gets in. If they are thin slices, this step is not needed. Apply the paste evenly on all the fish pieces one by one. Arrange them on a wide bowl/tray and freeze them for an hour. Minimum of 30 min- 1 hour freezing is needed so that it gets firm and masala sticks to fish.
Heat Tawa with coconut oil, I prefer using coconut oil for my Fish fry as both these make good couples. You can use any oil of your choice. Pour in 2-3 oil in tawa and place the fish pieces. Cook in medium flame until roasted on one side. Gently turn them to the other side and pour in 1 tbsp oil again around if needed. let it get roasted on the other side as well. Serve hot with onion pieces and chopped coriander leaves.
Veg Version of this is with Raw banana and here is the recipe.
Meen varuval Recipe:
Meen Varuval recipe
Ingredients
6-8

medium thick

fish slices

any variety
Ingredients for Marination
1

tsp

turmeric powder

1

tsp

chilli powder

1-1/2

tsp

kashmiri chilli powder

1-1/4

tbsp

ginger garlic paste

1

tsp

pepper powder

adjust based on your spice level

1

spring

curry leaves

very finely chopped

2

tbsp

coriander leaves

very finely chopped

Salt

to taste

1

tbsp

oil

for marination

1

tbsp

thick curd

1/2

tsp

lemon juice
Instructions
Make a paste of all the ingredients needed for marination. Coat the masala in every fish slices


Put them in freezer for 30 min to 1 hour


Heat oil in Tawa and roast the fish pieces in medium flame until roasted on both the sides.