14 simple and easy ways of making Heart Idli – Valentine Recipes Easy
Valentine Recipes Easy – Valentines Day is one of the most excited occasion to celebrate with your loved ones and family. How about celebrating Valentines day with our staple food "IDLI" ? Easy to impress, surprising as well. lovely gesture it would be, isn't it? I have taken up this challenge of 22 days to come up with valentine recipes for my readers with staple food items, easy and anybody can cook recipes.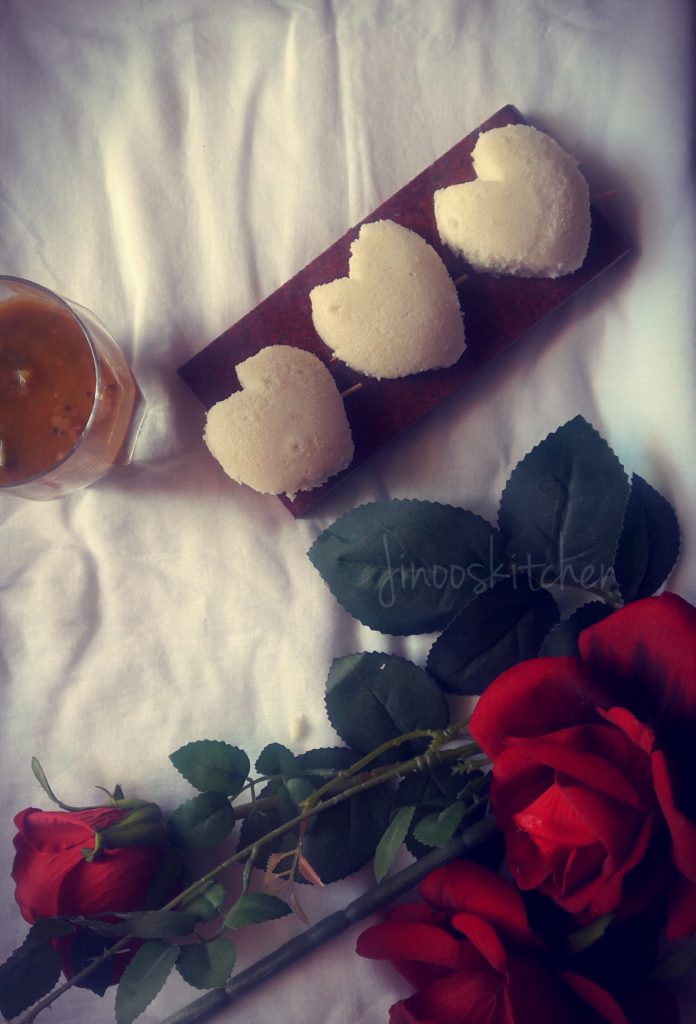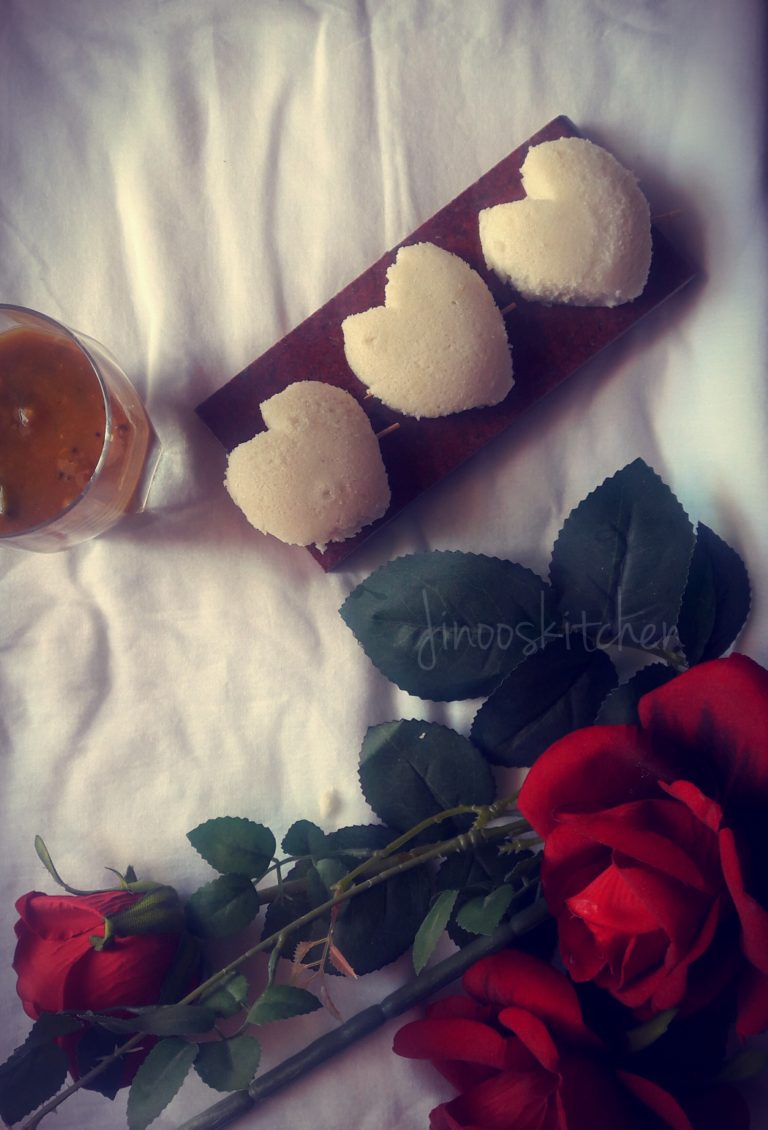 May be I should be saying it will be little Healthy Valentine recipes, as i would NOT be baking any CREME cakes loaded with fat to make your loved ones FAT. Basically there would be many like me who are not fond of cakes but want to impress your loved ones with some unique BUT easy recipes 😉
So here is the Day 1 of Valentine recipe ideas, Heart Idli – Valentine Recipes Easy
Heart Idli recipe: – Valentine Recipes Easy
You get the heart mould shaped idli steamer plates but why would you go search for it, just steam normal Idlis and cut them to heart shape  "gently".  Now after cutting those idlis, think of whatever flavor your dear ones like? I have given here the options for you,
1. Podi Idli
Mix podi with oil to thick paste and coat it on the idli. If your Dear ones love Podi Idli, Just go for it without a thought, super easy! You can find the spicy Urad dal Idli podi in JK.
Urad dal Idli podi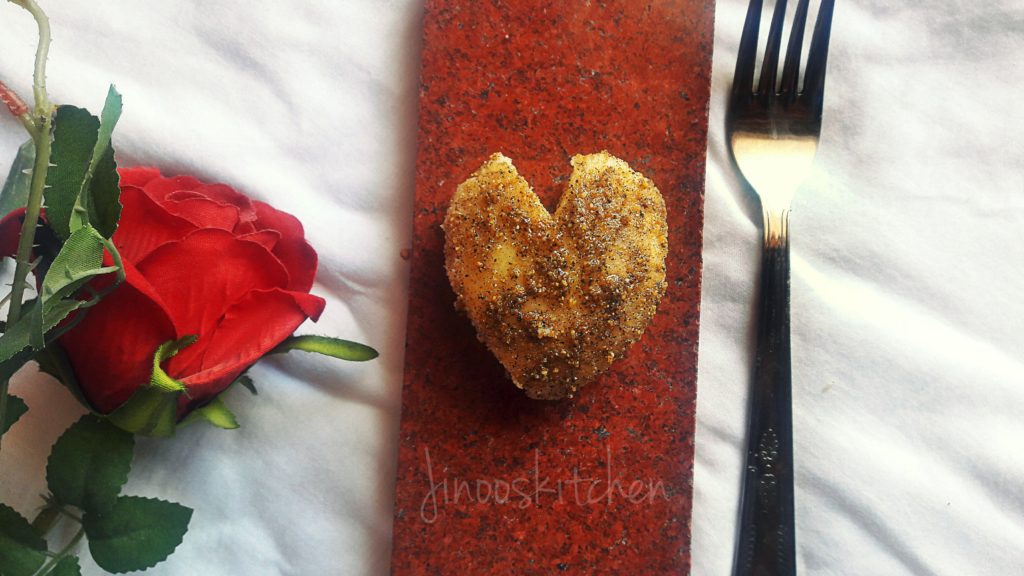 2. Sambar Idli
Make delicious Onion Sambar or any other variety and soak these heart shaped Idlis in it. Top it with finely chopped coriander leaves and onions.
3. Chutney Idli
Chutney Idli is another interesting Idea, Make your dear ones' favorite chutney and coat the idli with that chutney. Arrange them on a plate and serve for breakfast. Of course with love 🙂 Below are some of the chutney recipes in JK, check out them. Chose a colourful chutney(s) to make the idlis attractive.
4. JAM Idli:
You have a lil one at home who loves JAM? or your dear one is a sweet tooth ? Go for JAM idli. Easy and simple right?
Melt the jam a little, very little so that it is easy to spread on the idli.
Spread evenly on the idli and serve with a tooth pick.
Make it with different JAM varieties, Pineapple, Mango, Mixed fruit, Apple… You just need to but 1 or 2 sachets of each so that you can make varieties.
5. Curd Idli:
If you have the habit of having idli with curd and sugar and you love it,
Simple, Make heart shaped idlis.
Mix curd and sugar in a bowl.
Dip the Idlis in the curd and arrange them on a plate.
Sprinkle cinnamon powder/ colored sugar sprinkles on top for a added effect.
6. Red heart Idli /Beetroot Idli:
Now for this,
You just need to boil a beetroot with salt.
Mash them or better puree them with ginger and add to the Idli batter.
Mix well and steam the idlis.
Cut them to a heart shape and serve with your favorite chutney.
I would prefer adding chilli powder while pureeing beetroot to subside the sweetness of beetroot.
7. Cheese Idlis:
For this,
Cut the heart shaped idlis and flatten the top.
Cut the thin layer of idli on top gently as it use to be little bulgy.
Put grated cheese on top of idlis and sprinkle pepper powder.
Either Bake or steam until the cheese gets melted. Serve hot!
8. Pizza Idlis:
Similar to Cheese Idlis,
Get ready with heart shaped idlis and top it with your favorite vegetables and cheese.
Vegetables have to be finely chopped as Idli is very small in size.
sprinkle mixed herbs, cheese and bake/steam until cheese gets melted.
sprinkle red chilli flakes and serve hot.
9. "I LOVE YOU"  Idli:
Sounds funny? haha.
Just cut separate 3 heart shaped idlis and
take a sauce and write "I" in one idli, "heart shape" in second and letter "U" in third Idli.
Serve with love 🙂 You can draw a heart with sauce on the plate and arrange the idlis on it.
10. Colourful Chocolate Idli:
If your little one loves chocolate,
make idlis without adding salt.
cut out heart shapes.
Melt the dark chocolate in a double boiler, Add butter and mix well. Remove from stove.
Dip in each Idlis in the chocolate sauce
sprinkle colourful sugar sprinkles on top and serve it! Bet they will finish off idlis and will Love you back MORE!
11. Stuffed Heart Idlis:
saute onions, finely chopped carrots, beans, capsicum or any vegetable of your choice
add them the Idli batter.
Steam cook Idlis and cut the heart shape out of it. Tada! Stuffed Heart Idlis ready! Healthy, tasty and lovely!
12. Spicy Heart Idli:
For this,
Make plain Idlis, cut them to heart shape and keep it aside.
Heat oil, splutter mustard seeds, urad dal, chana dal, let it brown
Add chopped onions and fry till brown.
Add chopped tomatoes and fry till mushy.
Put in Chilli powder, garam masala, green chilli 1 no. Adjust spice according to your taste.
Add salt enough for the onions and tomatoes. Put in those heart shaped idlis and fry for a couple of minute.
Sprinkle chopped coriander leaves and serve hot!
13. Fried Heart Idli:
As simple as other fried idlis.
Make Idlis, cut them to heart shape.
add chilli powder/podi and oil and mix well with the idlis. let it sit for a minute.
Deep fry for  a minute until roasted.
14. Idli Tikka
For this, we need mini idlis.
Steam cook Mini idlis, cut them to a heart shape. arrange them on a skewer alternate with capsicum, onions, paneer or tomato.
Dip them in green chutney and roast them on tawa until slightly roasted.
You can even saute all the vegetables with the spice powders and finally add idlis. saute for a minute.
Arrange them on skewer and keep it on top of a glass filled with sambar.
Thanks for taking time to read my recipes! 🙂 It would be great pleasure if you could drop a comment about your views. Post if you have tried recipes from Jinoo'sKitchen. Let us know how the dish turned out for you! Like, Share and spread a word if you like the recipes! mjm/.