Rava burfi recipe | Suji barfi recipe | Diwali sweets recipes
Rava burfi recipe | Suji barfi recipe | Diwali sweets recipes with step by step photos and video recipe. this one id one of the latest addition to the Diwali 2018 sweets and snacks recipes collection 
this is very simple and easy sweet recipe made with rava, coconut that is also called as suji nariyal burfi or rava thenga burfi. You can adjust the quantity of the coconut based on your liking.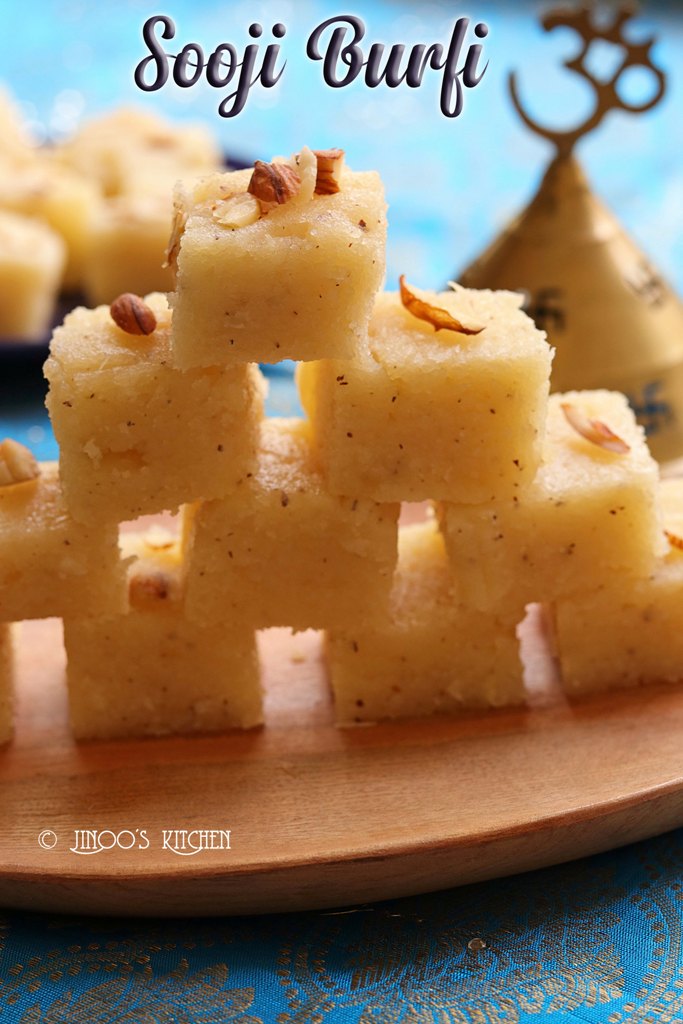 one of the easiest of diwali sweets that can be prepared in less than 30 minutes. though am not a sweet tooth, such homemade sweets are very much attractive to me. firstly because its not overly 'gheed' or overly 'sweetened'. Yes, sometimes when we shop sweets, i feel there is too much ghee or too much sweet that eating half of the sweet makes us feel arghhh.
not only for that reason, homemade is always healthy and when you serve to your loved ones, you can make them eat one extra without any guilt. especially when having kids or aged people around, homemade is the best!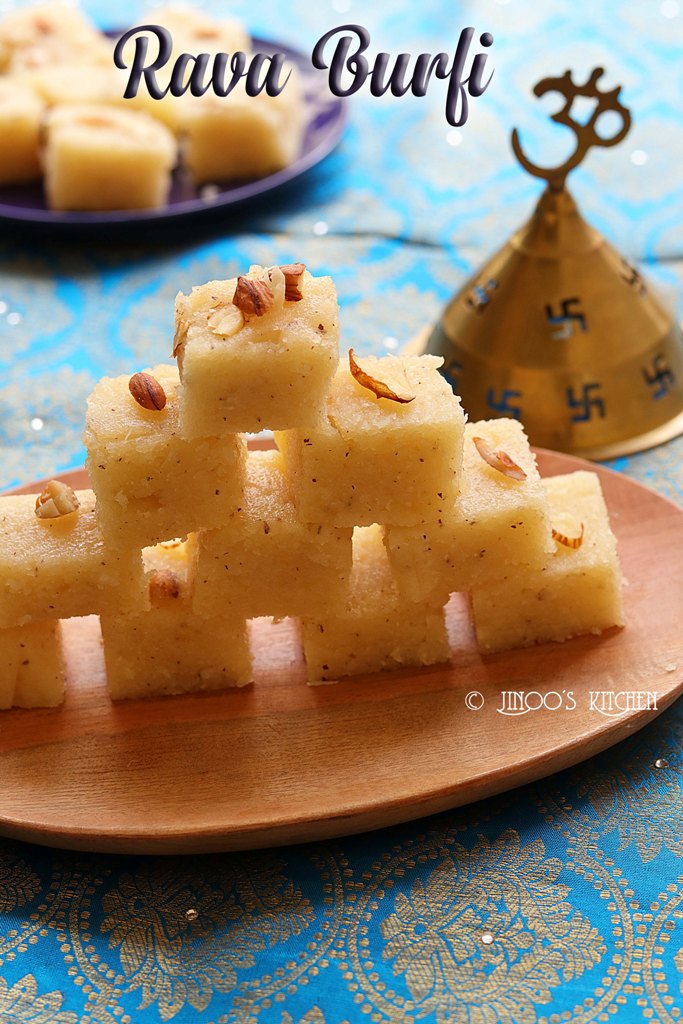 ---
Rava Burfi recipe
rava burfi recipe
Ingredients
1/8

cup

ghee

1

cup

rava

1/4

cup

grated coconut

1.25

cups

warm milk

3/4

cup

sugar

1

pinch

cardamom powder

1

tsp

ghee
Instructions
roast the rava in ghee until a nice aroma comes out.

add grated coconut and mix well. fry for half a minute.

to this, add warm milk and keep stirring in medium heat until all the milk is absorbed and rava is cooked.

when the milk is absorbed completely, add sugar and cardamom powder to it.

stir continuously. sugar melts and then combines with rava. gets thickened and it leaves out the pan and combines together.

lastly add ghee and mix once.

pour it on the mould lined with butter sheet or greased with ghee.

freeze for 20 minutes. de mould and cut into desired shapes.
Video
Notes
roast the rava and coconut for the best results. 
you can also add pistachios along with almonds. 
you can also soak the saffron threads in warm milk and add it so that you get a beautiful yellow kesar rava burfi. 
Suji barfi recipe | sooji ka burfi recipe
1.melt ghee in a pan and add a cup of rava/sooji to it. roast it in medium flame until it is aromatic. need not roast till brown. just until you can smell the beautiful aroma from the rava fried in ghee.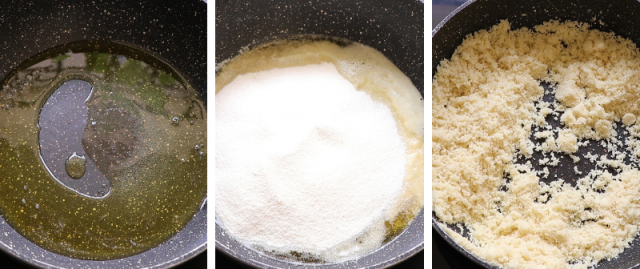 2. add grated coconut and mix well. fry for half a minute.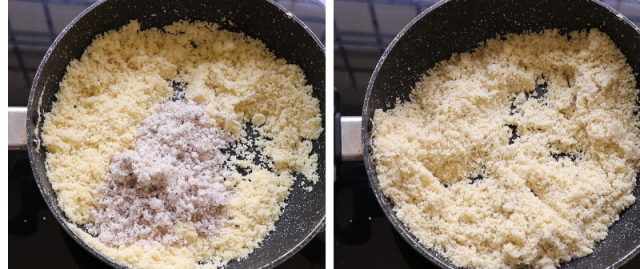 3. add warm milk to the pan and start whisking. milk should not be hot but Luke warm. reason is rava has to be cooked perfect and if milk is hot, it gets cooked quickly. if cold, takes time and needs more liquid by then. so add it luke warm for the correct texture of the rava in burfi.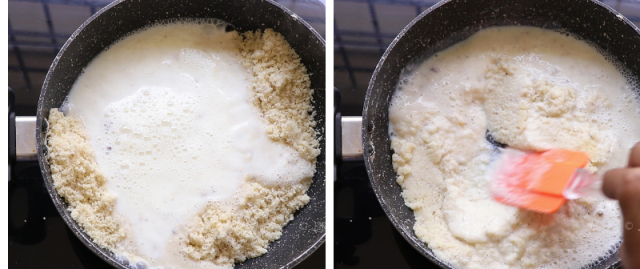 4. keep stirring until all the milk is absorbed and the rava is cooked.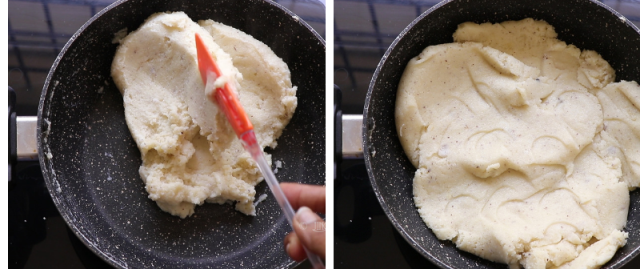 5. add sugar and cardamom powder. I have added little less sugar but adjust as per your preference. measurements are given in the recipe box above.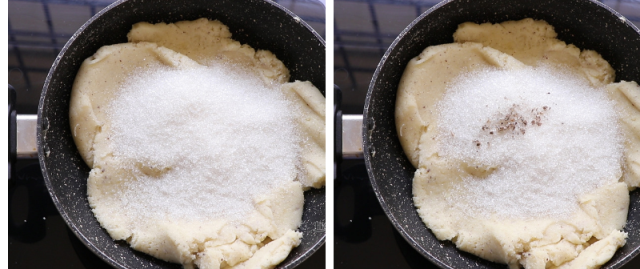 6. when the sugar is melted and then again it thickens. when the burfi leaves out the pan and comes together add ghee to it.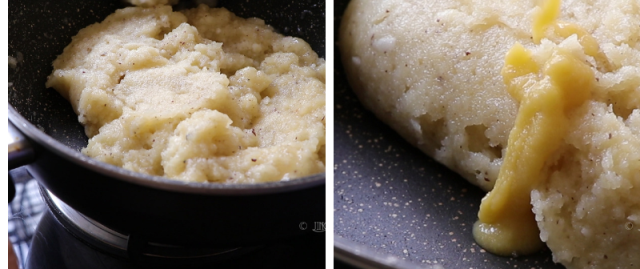 7. mix well and you can see the texture tends to be smooth when pressed with ladle. which means you can easily mould it.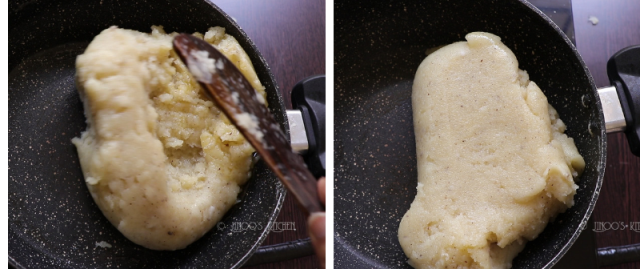 8. take it out and pour it over the plate/ bowl lined with butter sheet. If you do not have it, then simply grease a plate with ghee and pour over it. tap it to get smooth top.
9. lastly, add chopped almonds and press again to make it smooth. You can also add it to the bottom of the mould. and pour the burfi over it which is much more easier.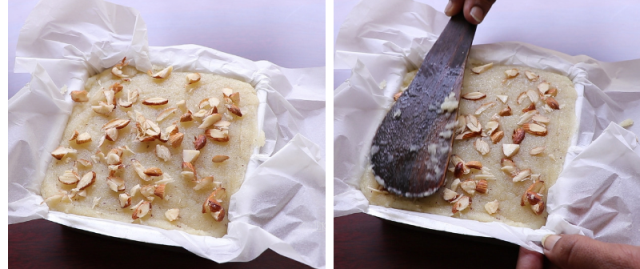 10. freeze it for 20 minutes or until set and take it out. de- mould the burfi.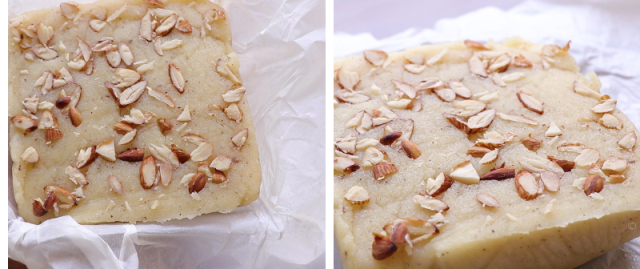 11. cut it into square pieces and store it.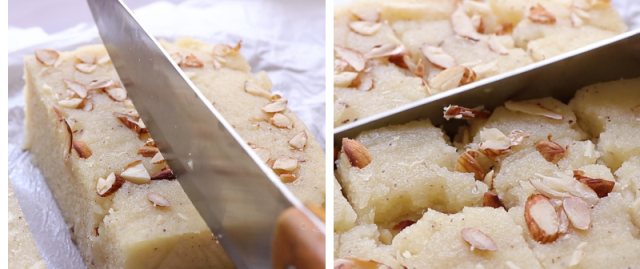 stays good for 2-3 days so make it less in quantity. the measure i have mentioned yields 20-24 burfis.