Keerai Mandi recipe| chettinad special spinach curry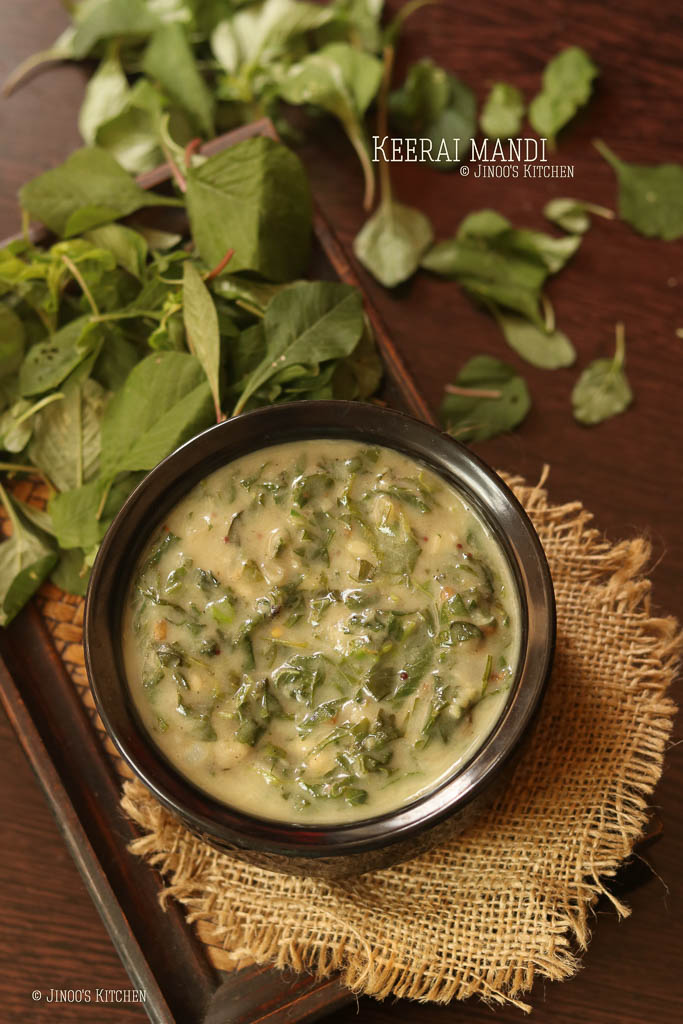 Keerai Mandi recipe – chettinad special dish that is very simple to cook, mild in taste and healthy curry. This traditional chettinad curry goes well with steamed rice.
Like the heritage houses of chettinad, hospitality they provide, richness of their culture, the cuisine of chettinad is also very famous. Apart from knowing about its complexity of flavor and spices rich recipes, one thing to be mentioned is it is mostly cooked in mud pots/earthenware.
What is chettinad mandi
Mandi in Tamil means sediment/settling apart from the other colloquial meanings. Many traditional chettinad recipes call for the mandi to be added. The leftover water after washing rice is let to settle down and you get a starchy layer settled underneath which is called mandi and is used in many of their recipes.
If mandi is not readily available
If you do not have the above said mandi, then you can easily prepare by mixing 1 tbsp rice flour with 1 cup water.
Ingredients other than spinach
While making this keerai mandi is unique from other vegetable mandi recipes, you can try with ladies finger, brinjal, bitter gourd where even tamarind water is added to make it sour. unlike this recipe which is mild and subtle.
Adding coconut milk in this recipe
Though it is optional and some of my chettinad book references mentioned keerai mandi with the coconut milk added to it. So I preferred to add the same.
some of the Chettinad recipes: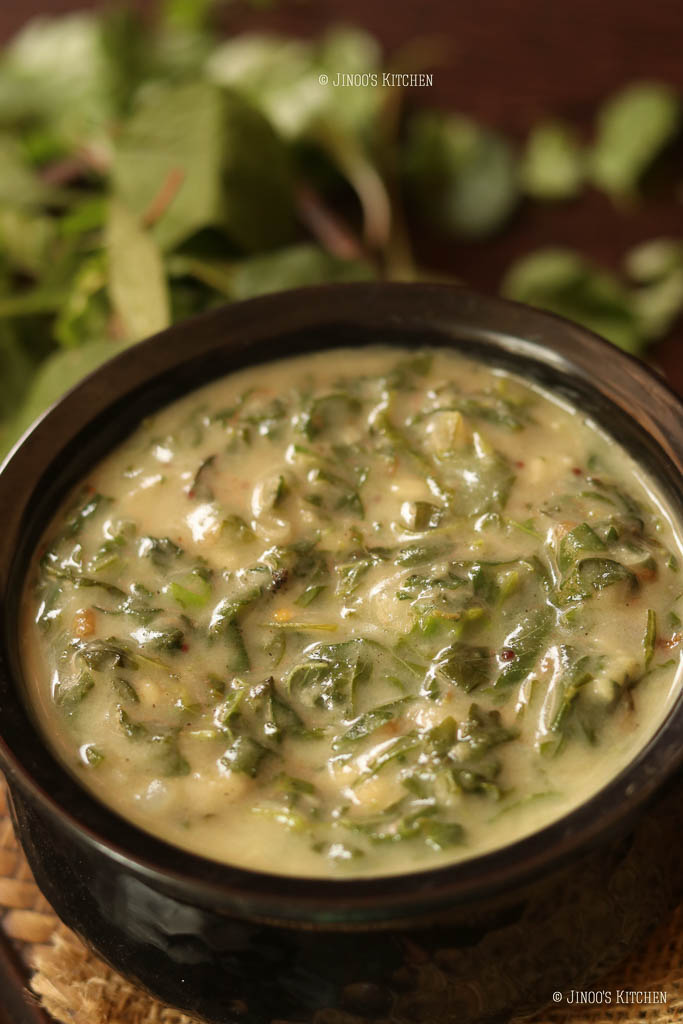 Keerai Mandi video recipe
Keerai Mandi recipe
Keerai mandi
Ingredients
1

tsp

oil

1/2

tsp

mustard seeds

1/2

tsp

urad dal

1/4

tsp

fenugreek seeds

1

no

green chilli

slit

1

no

red chilli

broken

3

cloves

garlic

chopped

8-10

no

small onions

chopped

1

bunch/kattu

greens/spinach

chopped

salt to taste

1

cup

mandi

leftover water from washing rice/(1 tbsp water+1 cup water)

1/4

cup

coconut milk
Instructions
reserve the rice mandi that is the leftover water after washing rice. If not available, then add 1 tbsp rice flour in 1 cup water to make the slurry.

heat oil in a mud pot and crackle mustard seeds. When it splutters, add urad dal and fenugreek seeds.

further, add green chilli, red chilli, chopped garlic and chopped small onions.

Fry till the onions turn pink.

furthermore, add chopped spinach and cook till it shrinks.

Add salt, rice mandi (slurry) and cook the spinach until done.

lastly, lower the heat and add coconut milk to it.

put off when it comes to a boil. serve hot!
Video
How to make chettinad Mandi
Heat oil in a pot preferably mud pot, crackle mustard seeds, urad dal and fenugreek seeds.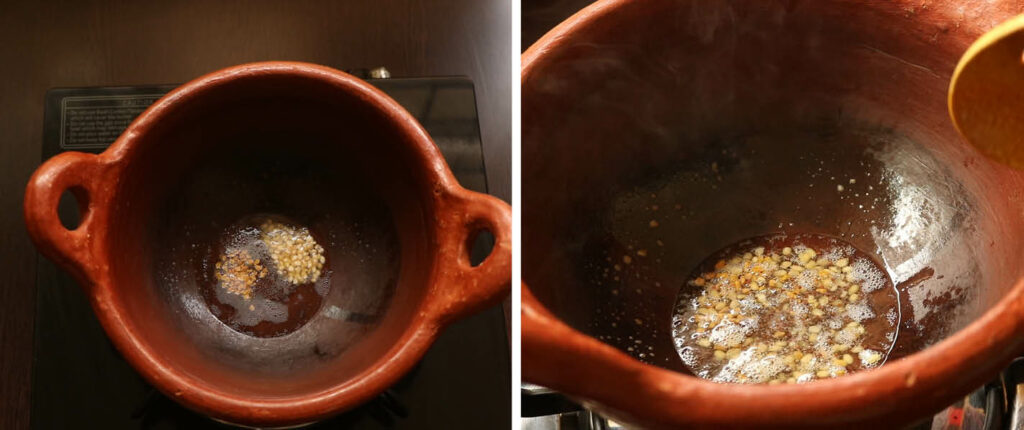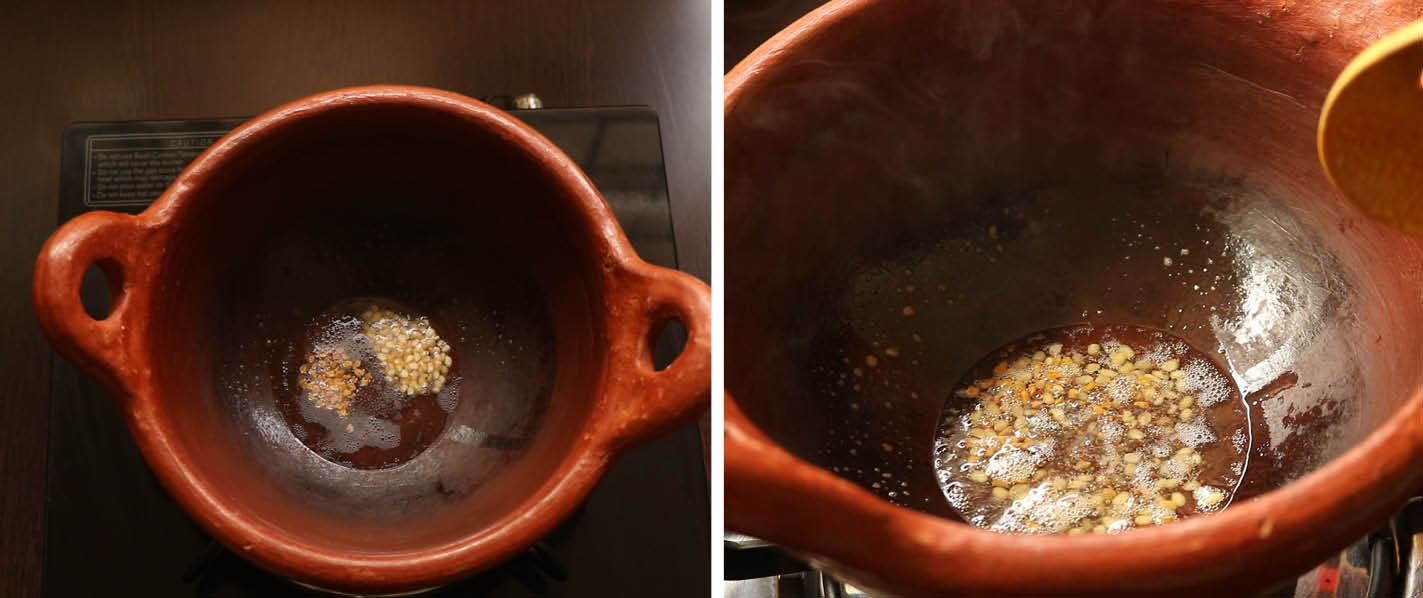 While it crackles, add green chilli slit, red chilli broken, garlic chopped and small onions chopped. mix everything together and saute for a minute.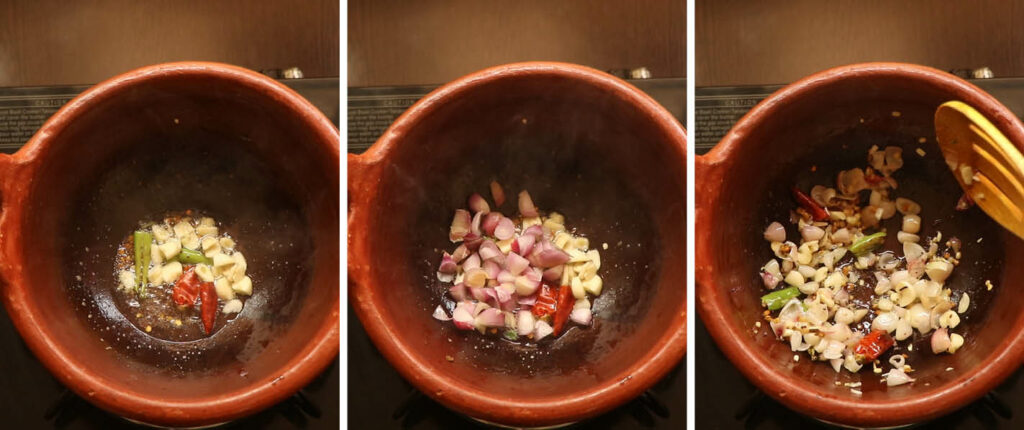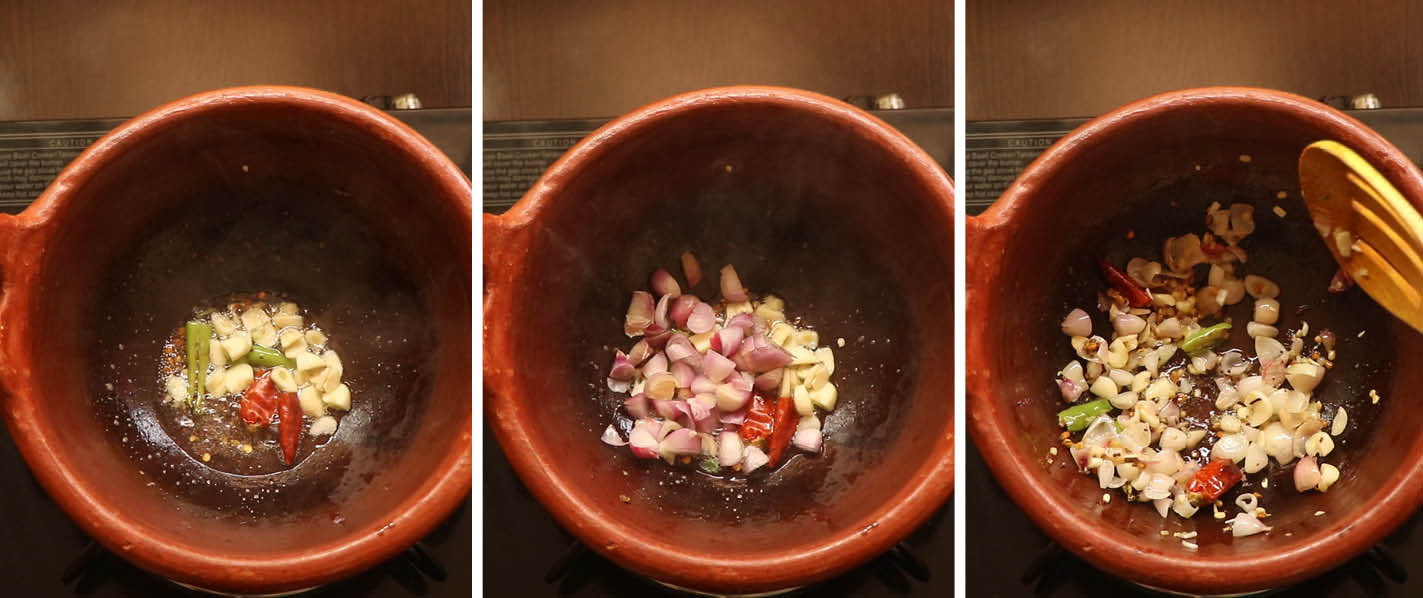 Wash and prepare the spinach beforehand. Add the chopped spinach into the pot and let it shrink a little before you mix it. Fry until it shrinks to half.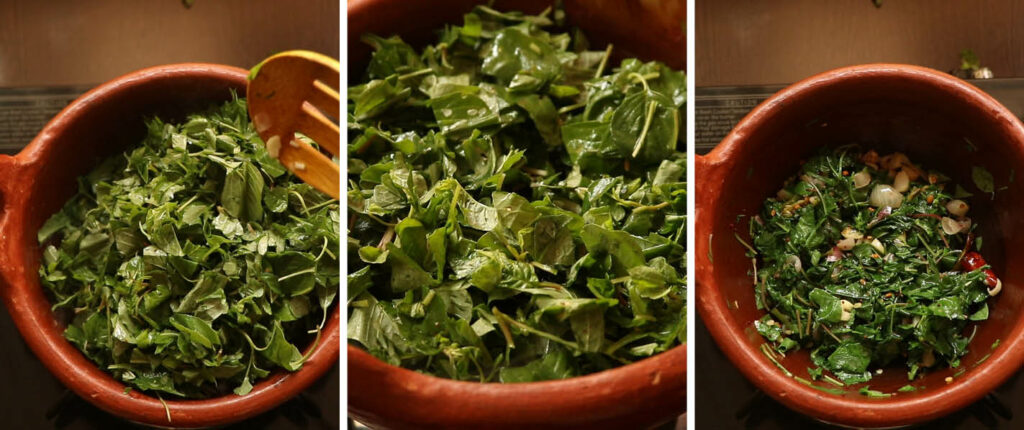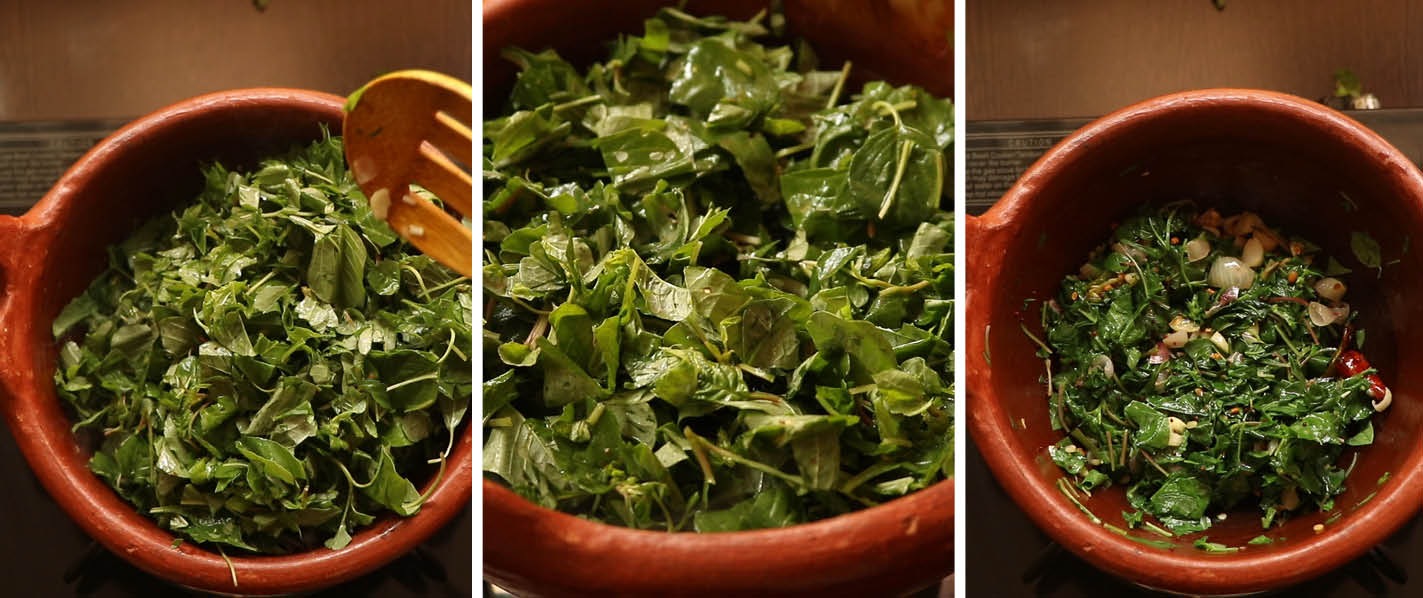 Add prepared mandi (leftover water from washing rice/rice flour mixed with water)- check the references above. add salt to taste and mix well.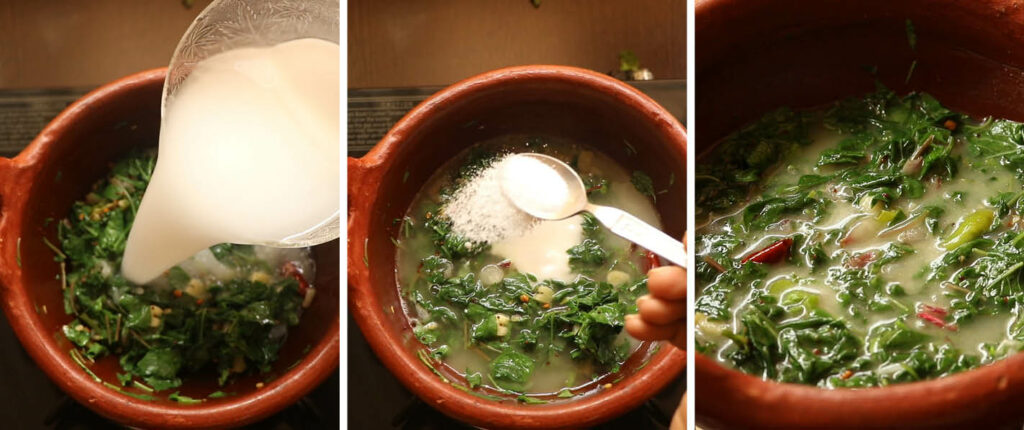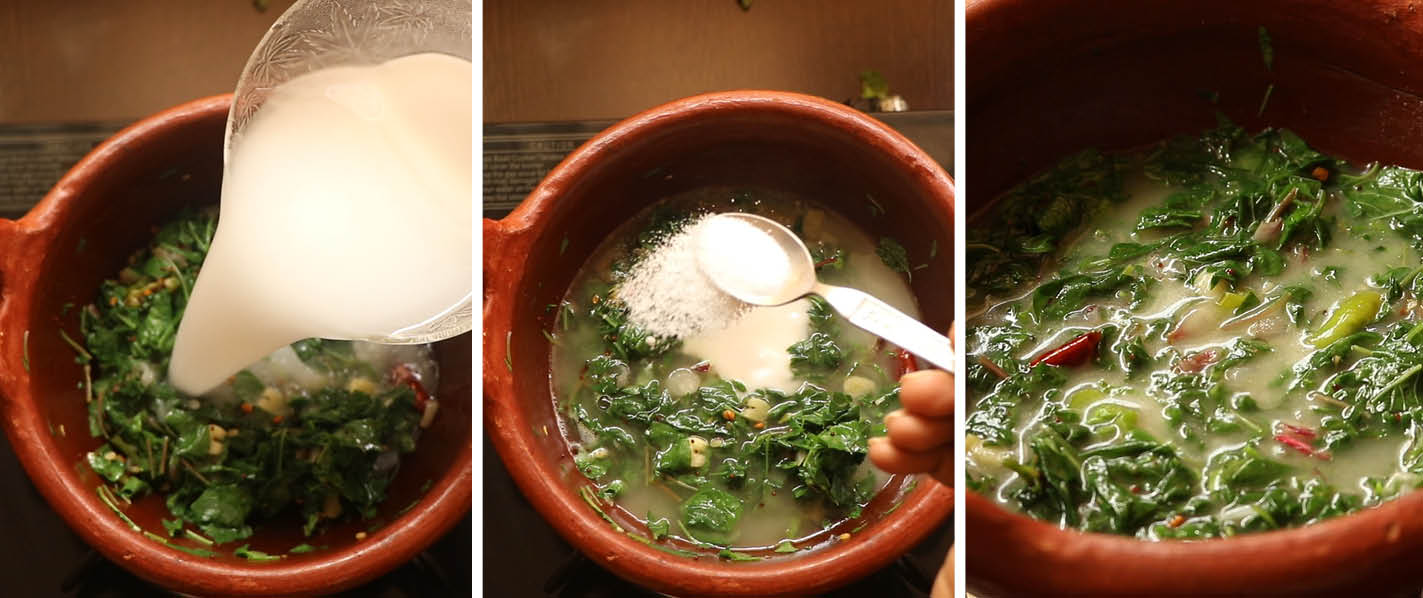 Let the curry boil and when the spinach is cooked completely. add coconut milk to it. put off the flame. since we are cooking in earthen pot, the heat in the pot will be enough to cook the coconut milk. Else put off when the curry starts to boil. Do not boil much after adding coconut milk.