Nei Appam recipe | Neyyappam – Karthigai deepam recipes
Nei Appam recipe – A simple, delicious sweet recipe that is made with raw rice and jaggery. Nei appam is generally made during karthigai month as a neivedyam and offered to god especially on the day of thirukarthigai.
There were a lot of discussions that happened to know the difference between Unni appam and nei appam. Few said unniappam is made with oil while the latter is made with ghee. Unniyappam/nei appam both can have bananas added.
Some of the traditional Kerala nei appam is deep-fried in oil while few prefer to cook in paniyaram pan. While there isn't any firm conclusion on the differentiation, be it nei appam / Unni appam it gains its love from everyone easily.
Though adding banana to the batter is optional, I suggest adding it for the unique taste it gives to the appam. choose any sweet and tasty banana variety. Do not add more than 1 or 2 maximum.
Also, it's highly recommended to store the prepared batter overnight/ at least 4-5 hours to get it set and for the best results. Also, the consistency thickens when left for long. Check out the other karthigai deepam recipes.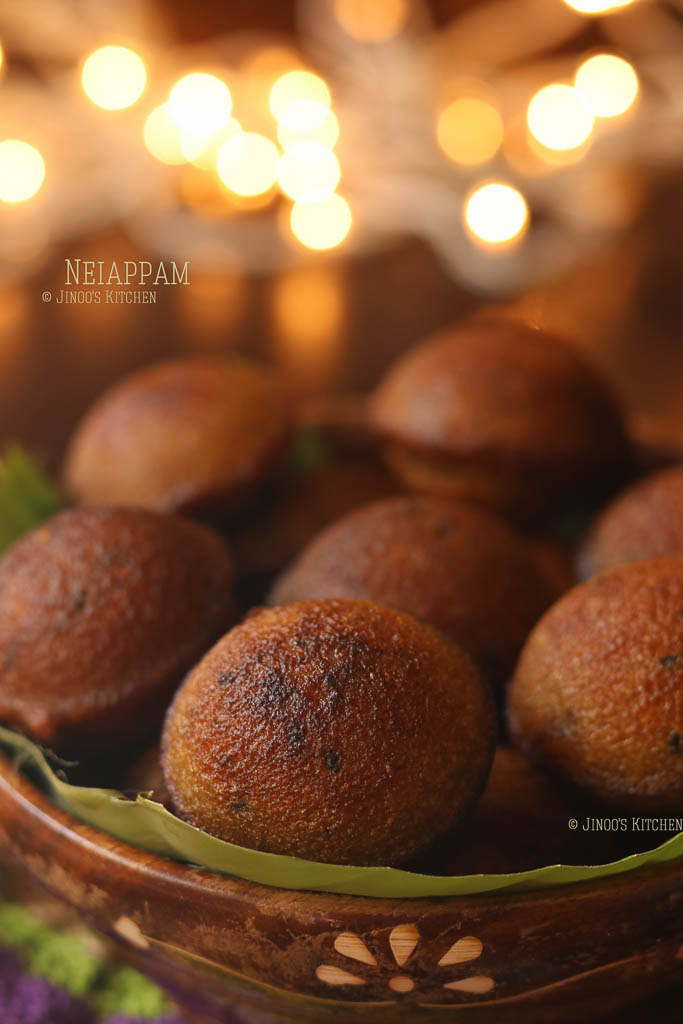 Nei Appam – video recipe
Nei Appam recipe
Nei appam recipe
Ingredients
1

cup

raw rice

soak for 4 hours

1

cup

jaggery

1/8

cup

water

1

small

banana

1/2

tsp

dry ginger powder

1/2

tsp

cardamom powder

1

pinch

salt

3

tsp

coconut bits

1.5

tbsp

ghee

1

tsp

sesame seeds

1/4

cup

ghee

for making appams
Instructions
Soak the raw rice in water for 4 hours.

melt the jaggery with water until it dissolves and starts boiling.

Drain the soaked rice and take it in blender/bowl.

Strain and add the jaggery syrup along with a banana.

Further add ginger powder, cardamom powder, salt a pinch to the batter

Meanwhile, heat ghee in a pan and fry the coconut bits until half done. Put off and add sesame seeds. wait until it pops. By the time it pops, coconuts would be reddish.

add the fried coconut and sesame mix along with ghee to the batter.

mix well and refrigerate overnight/6 hours.

Heat paniyaram pan and add ghee to fill 1/4th of each pit.

fill the thick batter into it.

cook on medium heat until you find holes on top.

turn sides gently. cook the other side for another few minutes.

take out and serve hot/store for later.
Video
How to make Neyyappam
To make this Nei appam, firstly soak the raw rice for 4-5 hours. drain the rice and keep it ready.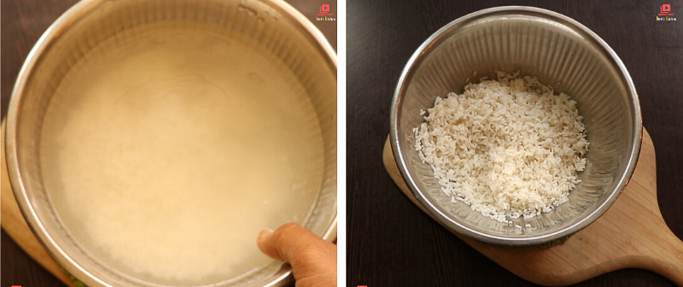 Meanwhile, melt the jaggery with 1/8th cup water until it dissolves and starts boiling. cool the mixture completely.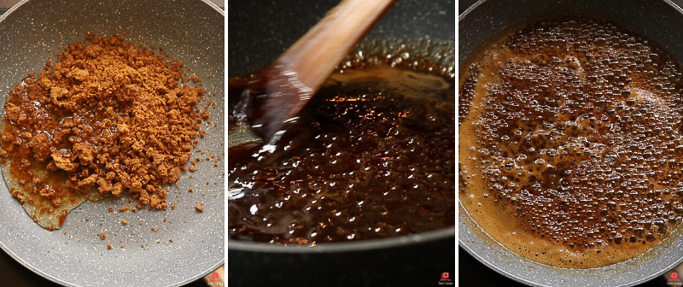 To the drained rice, add banana slices, filter the jaggery syrup and add it along with rice.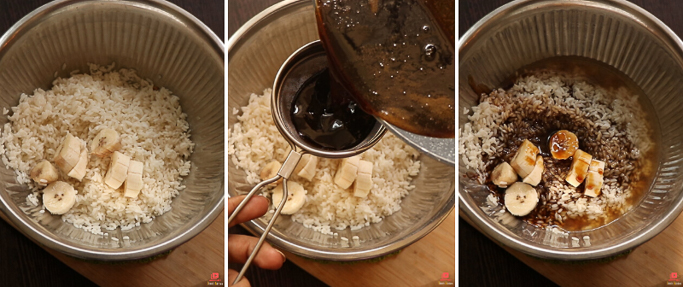 Grind it to a paste and add also add salt a pinch, dry ginger powder, cardamom powder.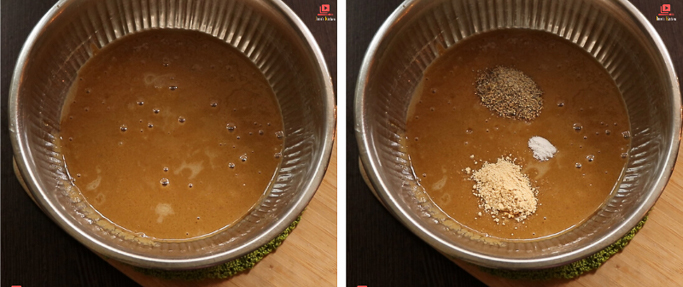 Meanwhile, in another tadka pan, add ghee and fry the coconut pieces and when it is half fried, add sesame seeds and fry until it starts popping and coconuts are golden brown. Switch off after sesame seeds. The heat of pan and ghee is enough for it to get popping.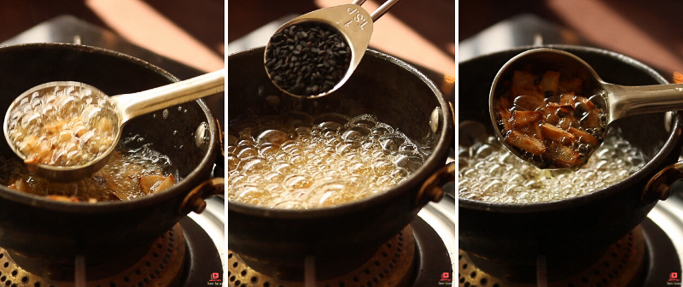 Add the fried coconut-sesame mixture to the batter and mix well. refrigerate it for 6 hours or overnight for the best results.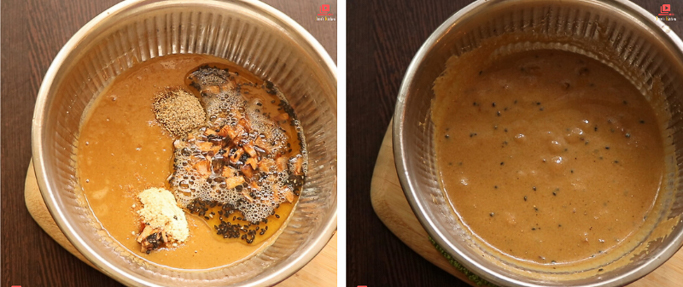 Pour ghee in each pit of the paniyaram pan. fill its 1/4th with ghee. pour the thick batter to each pit. Do not overfill, fill just until it is little less than the rim.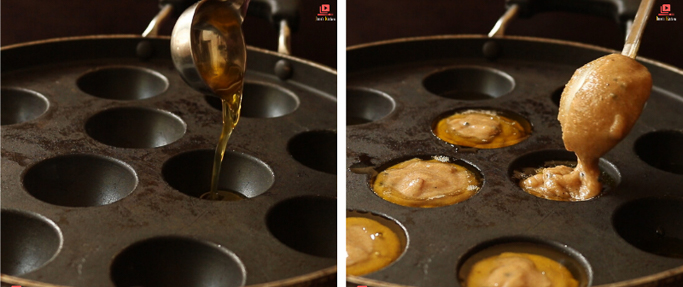 Let it cook in medium heat. the appams beautifully rise and you can find holes all over it. gently turn sides and cook for another few minutes.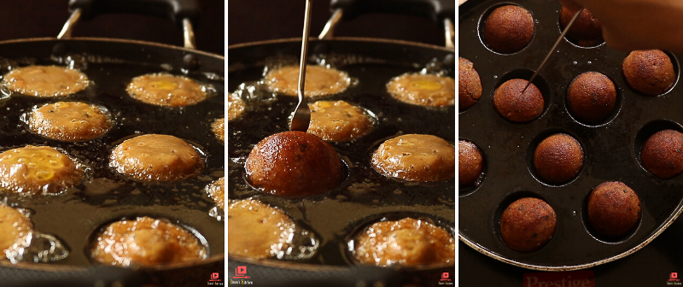 Serve it hot or store it for later.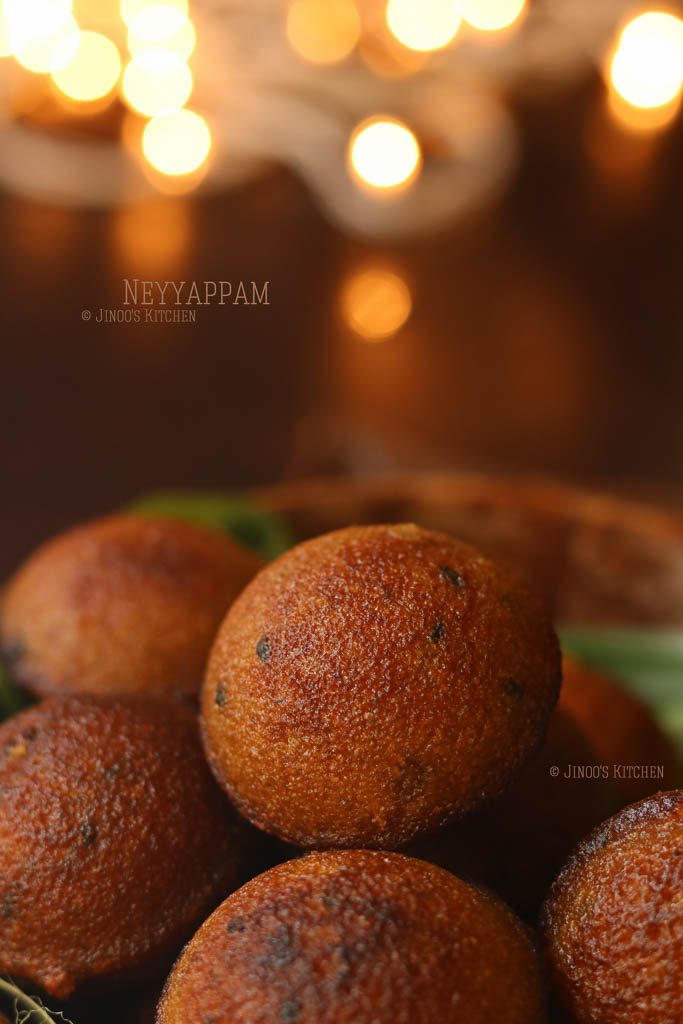 Notes:
If the batter goes thick, add little water and mix.
If the batter goes thin, add rice flour and adjust the consistency.
Refrigerate the batter overnight for the best results.
Cook the appams on medium heat so that inner parts are cooked completely.
Do not add water while grinding the batter. It has to be thick.