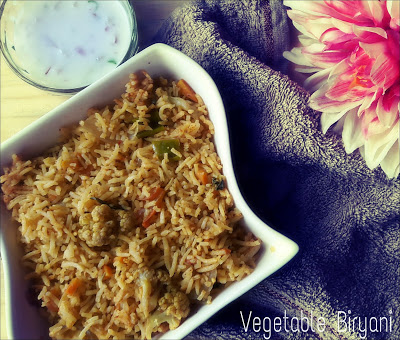 Vegetable Biryani Ingredients:
Basmati rice 1 cup
Biryani leaf 2
Cardomom 2
Cinnamon 1″ stick
star rinse 2
Black cardomom 2
Shahi jeera 1 tsp
Ghee 2 tsp
Onion 1 no sliced
Tomato 1 no diced
Potato diced,cauliflower florets,carrot diced,peas and any other vegetable of your choice altogether 1 cup
Fennel seeds 1 tsp
Peppercorns 1 tsp
Mace strand a pinch
Stone flower a pinch
Ginger garlic paste 1 tbsp
Mint leaves a handful
Turmeric powder 1 tsp
Salt to taste
Saffron threads a pinch soaked in 1 tsp milk
Vegetable Biryani Method:
1. Wash and clean basmati rice. Boil one pot water with 1 biryani leaf, 1cardomom,half cinnamon, 1 star rinse,1 small black cardomom, 1 tsp shahi jeera and ghee.
2. Once the spiced water is boiled,put in the washed rice.
3. Let it cook for 15 min or until its 3/4th cooked.
4. Once its 3/4th cooked, strain it in cold water, discard the spices and keep it ready.
4. Meanwhile dry roast fennel seeds,cardomom,cinnamon,pepper, star rinse, mace strand and black cardomom,stone flower and grind them to a fine powder. Your Biryani powder is ready. You can substitute this with biryani masala available.
5. Heat oil in a pan, add bay leaves,sliced onions, saute until it turns colour.
6. Add ginger garlic paste and saute until fresh smell goes off.
7. Add mint leaves and tomatoes and saute well. To this add the spice powder /biryani masala,turmeric powder, Salt and all the chopped vegetables.
7. Saute for a min and add water. Cook it until veggies are almost done.
8. Now add the partially rice and mix well. Check Salt. Sprinkle little water and close the lid.
9. Cook in simmer for 5 more min. Finally add ghee and soaked saffron thread milk.