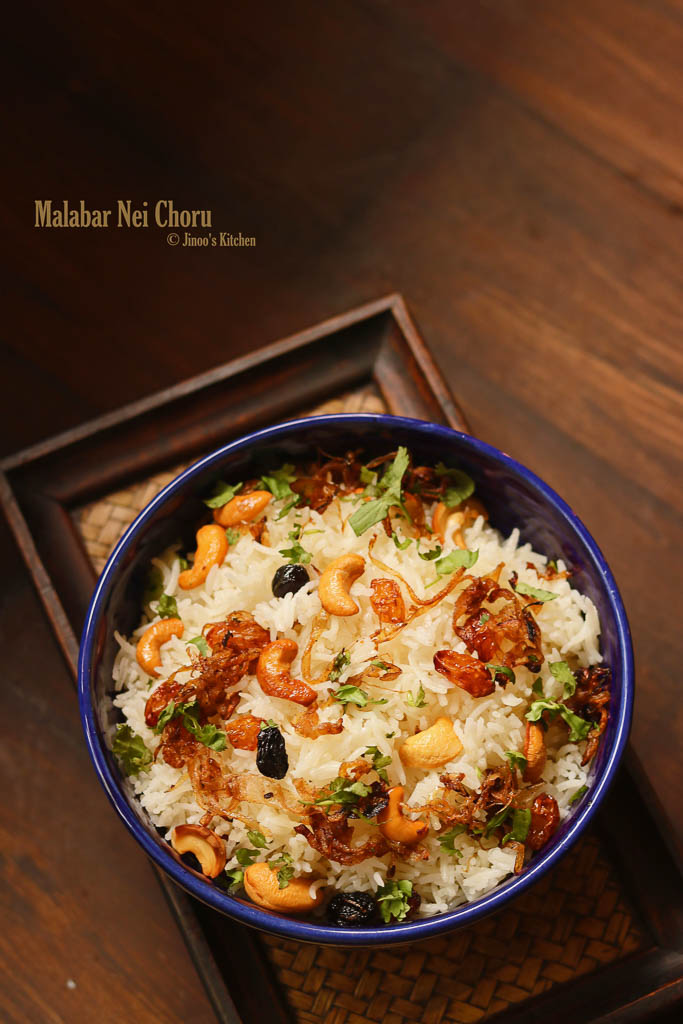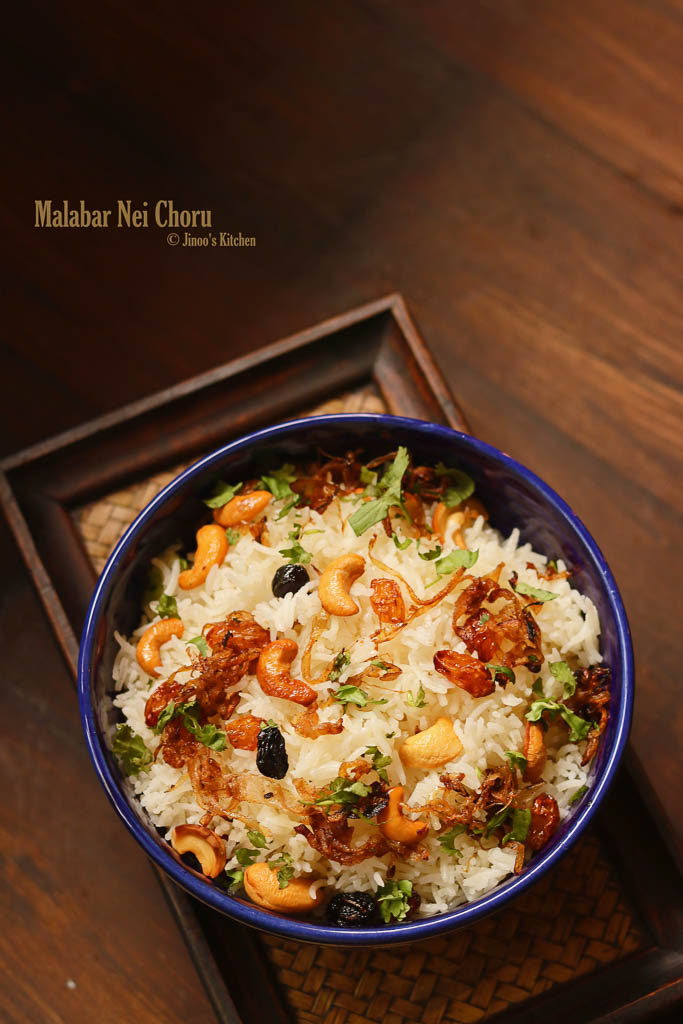 Malabar Ghee rice – Kerala Neichoru recipe with step by step photos and video recipe. Simple and easy Ghee rice recipe topped with fried onions, dry grapes, and onions.
Even though, Ghee rice recipe is very simple and with minimal ingredients. there is a specific method of cooking it at each home. We call it neichoru and the best combination for it is Pepper chicken.
This method is adapted in our family for ages and one of the Go-to and 100% working recipe. especially to get the rice so soft and separate with all the whole spice flavors infused in it mildly.
Some of the variety-rice recipes,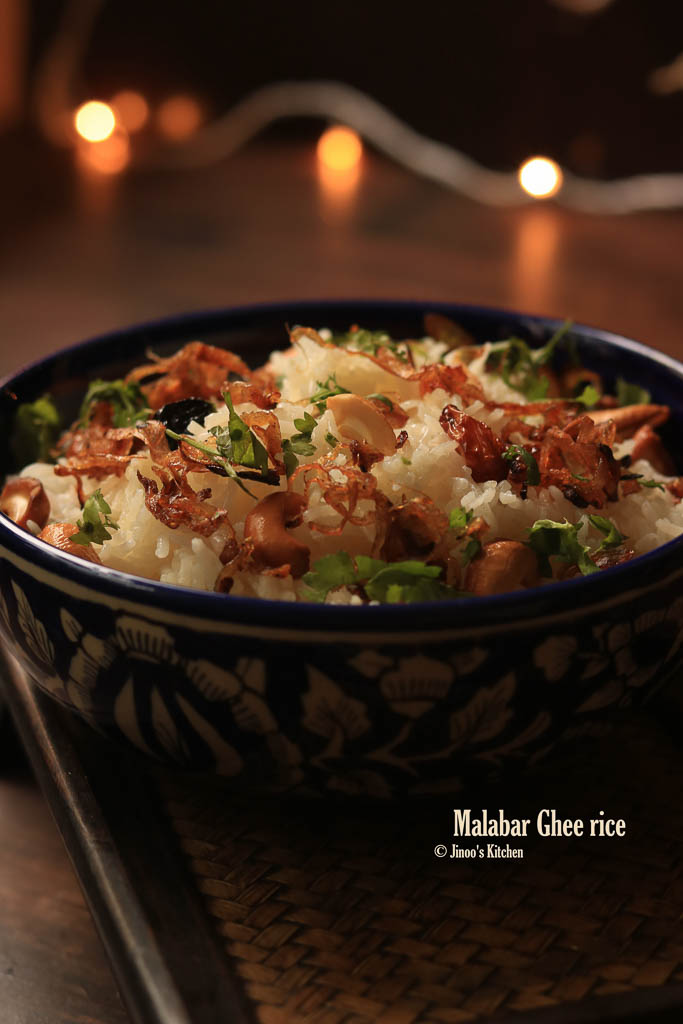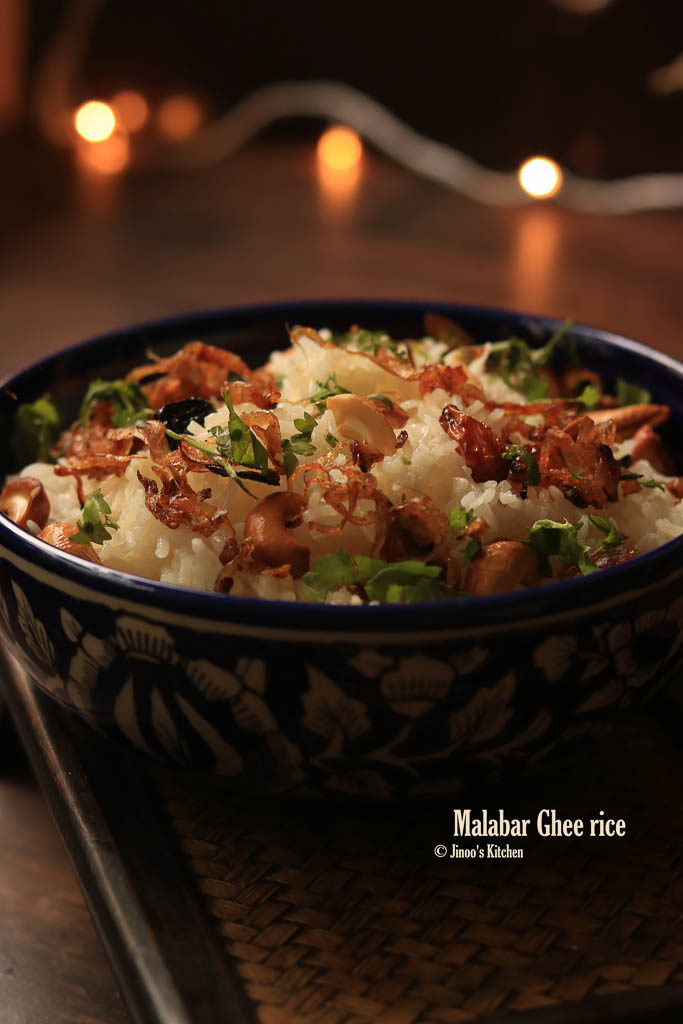 ---
Malabar Ghee rice recipe
Quick video recipe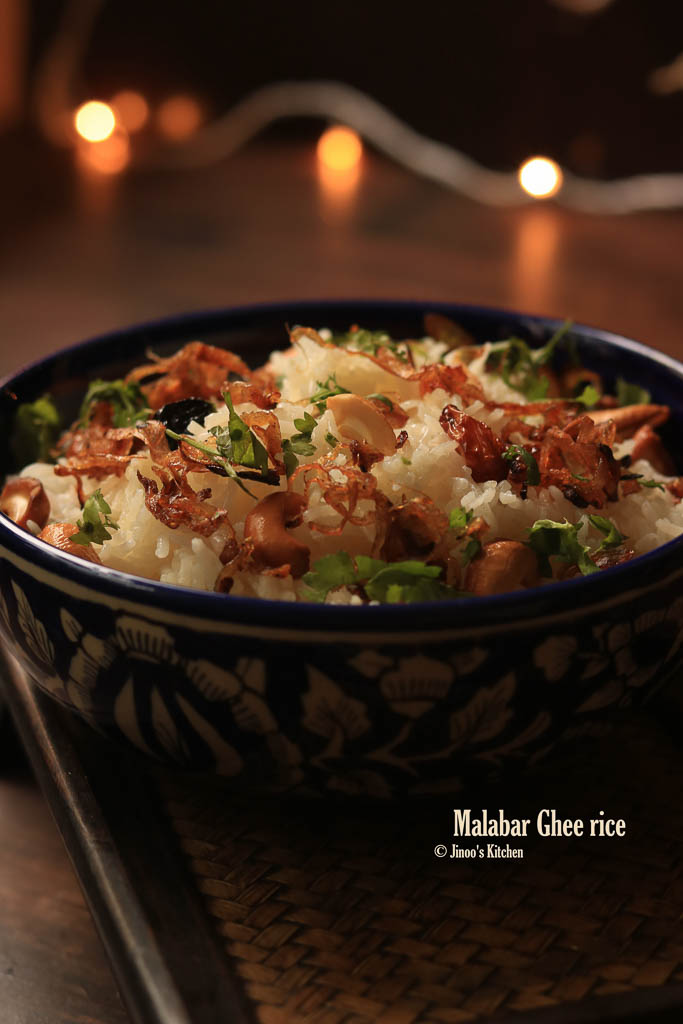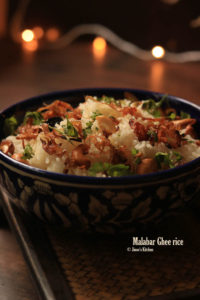 Malabar Ghee rice
kerala nei choru – Long grain basmati rice cooked with mild spices and ghee. Garnished with nuts and fried onions.
Print Recipe
Ingredients
1

cup

basmati rice

2

tbsp

ghee

2

no

bay leaf

1.5

inch

cinnamon stick

5-6

no

cloves

4

no

green cardamom

2

no

green chilli slit

1/2

no

onion

finely sliced

1.5

cups

hot water

salt to taste

1/2

no

lemon
for garnishing
1

tbsp

ghee

3

tbsp

cashews

2

tbsp

dry grapes

3

medium

onions

sliced

salt to taste
Instructions
Firstly, Wash and Soak the basmati rice in water for 30 minutes.

In a pot, heat ghee and add in all the whole spices: cinnamon, cardamom, cloves, bay leaves along with green chilli and onions.

Fry the onions until they turn soft.

Drain the soaked rice and add it to the pot. fry it along with the spices just until all the moisture from the rice is left.

Heat 1.5 cups water and add the hot water to the rice along with salt and lemon juice.

mix once. Close the pot with the towel and cover it with a lid.

Let it cook in simmer/low flame for 8 minutes

Put off the flame. Open the lid and mix the rice once. Close immediately and let it sit aside on countertop for 20 minutes undisturbed.

meanwhile, fry cashews, raisins and sliced onions in ghee separately until brown and drain the excess ghee.

Open the pot and fluff the rice.

garnish with fried nuts and onions. serve hot with curry of your choice.
step by step recipe
To make the Ghee rice, firstly, Wash and soak the Basmati rice in water for 30 minutes.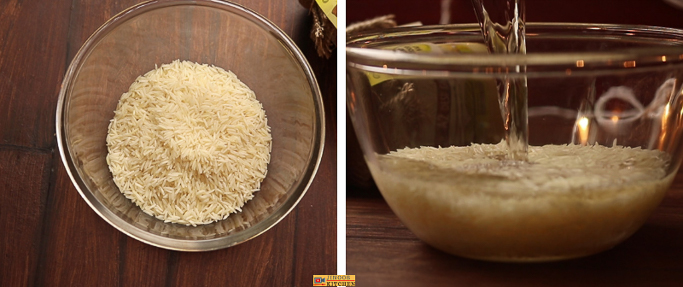 In a pot, heat ghee and add the whole spices: cinnamon, bay leaf, cardamom, cloves.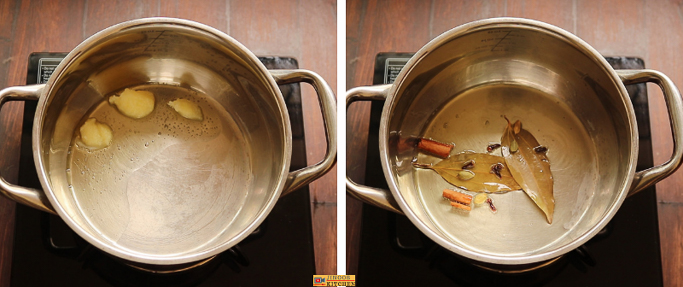 Further, Thinly sliced onions and green chilies are also added. Fry the onions just until they are soft.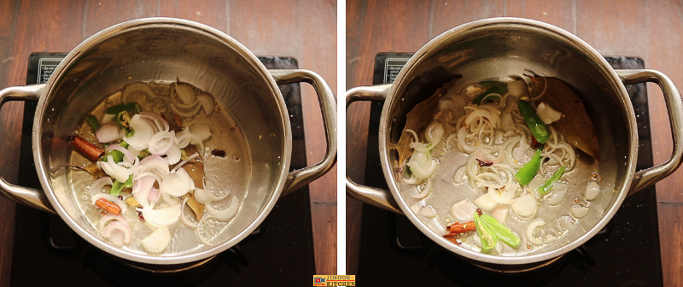 Drain the soaked rice completely and add the rice to the pot. Fry the rice in medium heat for 1-2 minutes or until the moisture in rice is gone.
Note: Frying the rice is a very important step to keep the rice firm and non-sticky.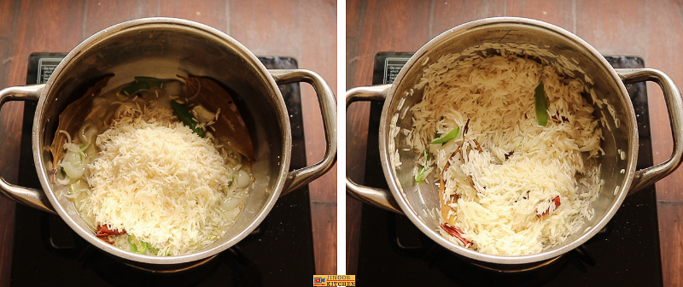 Meanwhile, Measure and heat water until it starts to boil. furthermore, season the rice with salt.
Note: We need 1.5 cups water for 1 cup rice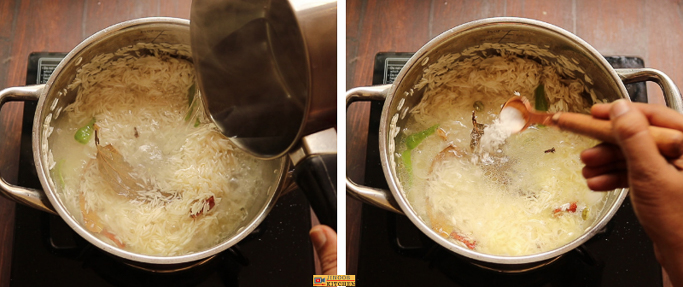 Lastly, squeeze half a lemon and mix once.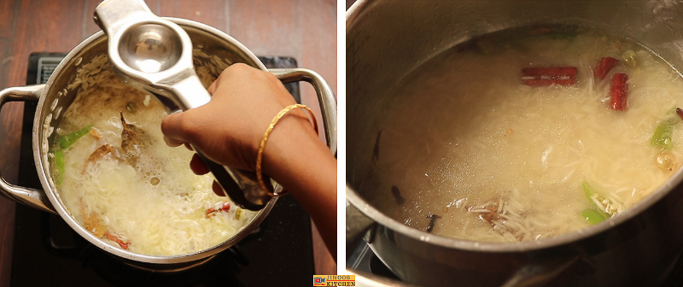 Put the flame low, cover the pot with a clean towel and close it with the lid.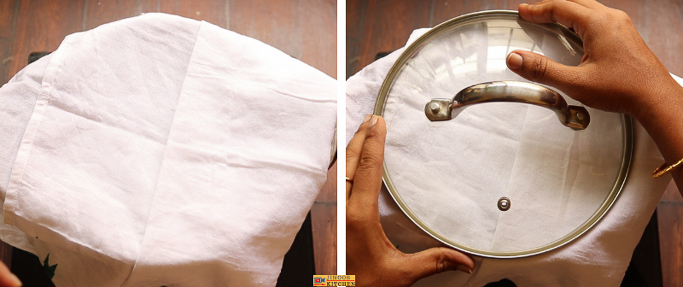 Cook in a low flame for 8 minutes. Open after 8 minutes. Mix once.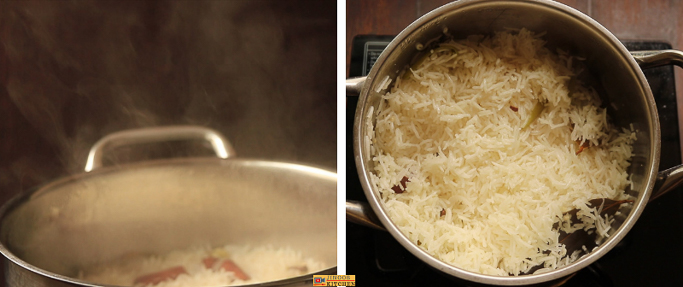 Put off the flame, Close again the same way and keep it away from stove. Open ONLY after 20 minutes. Waiting for this 20 minutes is really crucial and do not open in-between.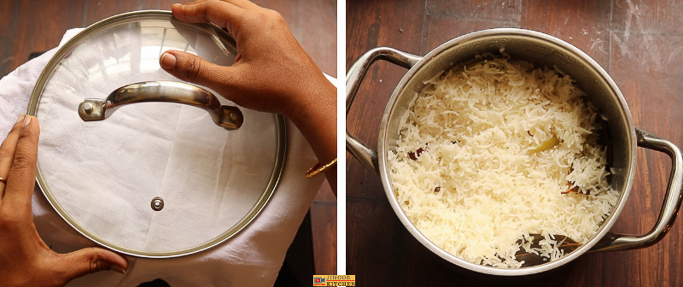 Remember: Basmati Rice soaked for 30 minutes needs only 8 minutes on the stove top (in low flame) and 20 minutes on the counter covered and undisturbed.
This is the key to get the rice separate, soft and evenly cooked.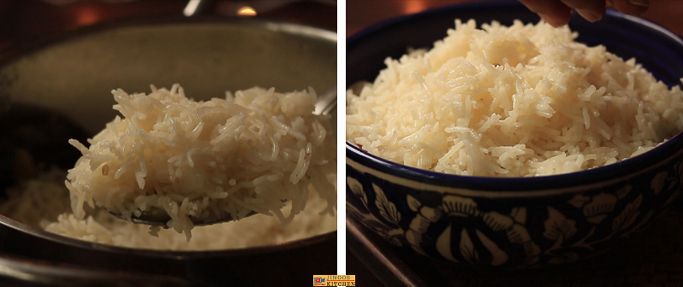 While the rice is resting, Heat ghee and fry the cashews until reddish. take it out to a plate lined with tissue.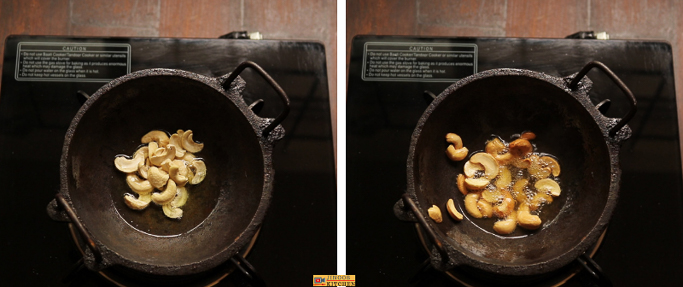 In the same ghee, fry the dry grapes until puffed up. Take it out as well.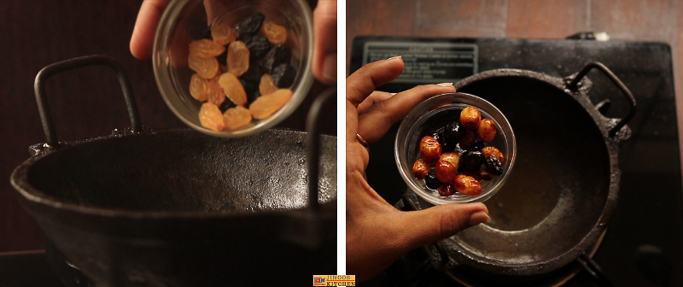 Again, in the same ghee, add the sliced onions and salt.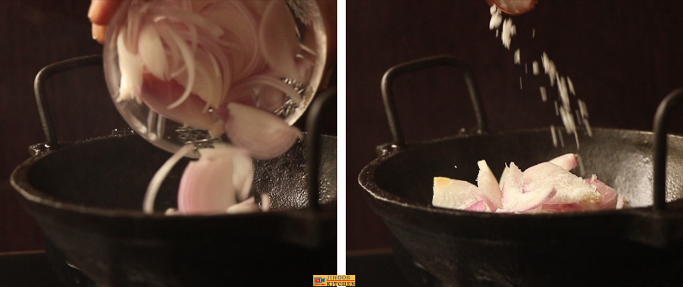 Start frying the onions until it turns brown and crisp. let it cool on a paper towel until dry and cool.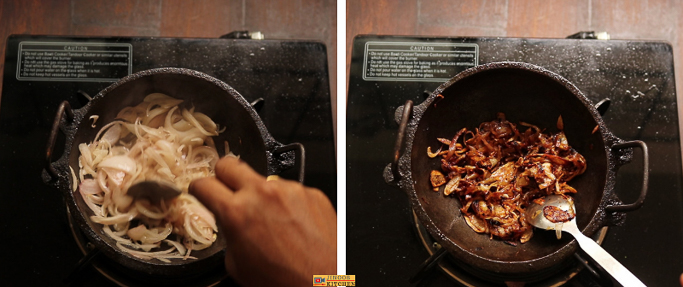 Put the cashews, dry grapes, fried onions, and chopped coriander leaves on top the cooked rice before serving.