Mango pachadi recipe, mangai sweet pachadi recipe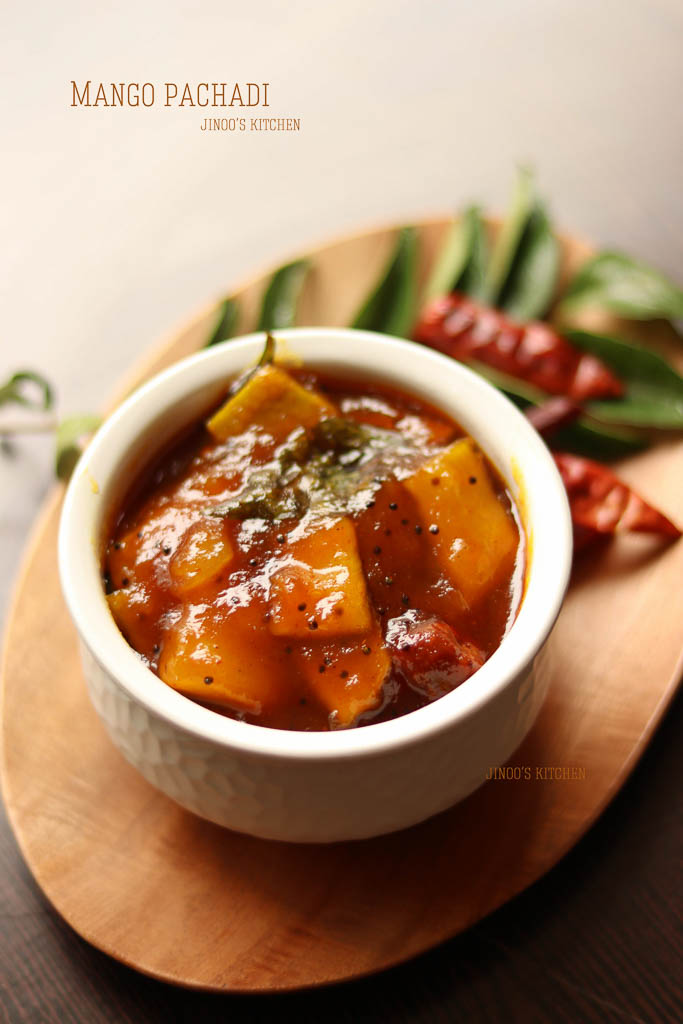 Mango pachadi recipe is a traditional recipe made with raw mango and packed with a mix of flavors like sour, spicy, sweet and salt in it. Generally, its made on the day of Tamil new year.
Neem flowers are also added when making it on that auspicious day. While adding neem flower/ vappampoo is optional, I have made with sweet and spicy version.
The shelf life of this curry pachadi is more than 2 weeks if refrigerated just like any instant pickles. It can be stored in an airtight container and used as and when needed.
The selection of raw mango plays a vital role in this pachadi. It has to be a very sour variety so that spice and sweetness added neutralizes else the sweetness or the spicy taste may dominate. In that case, I have seen some adding tamarind water to make it tangy. But, I would suggest choosing a very sour variety of mango.
Some of the raw mango recipes: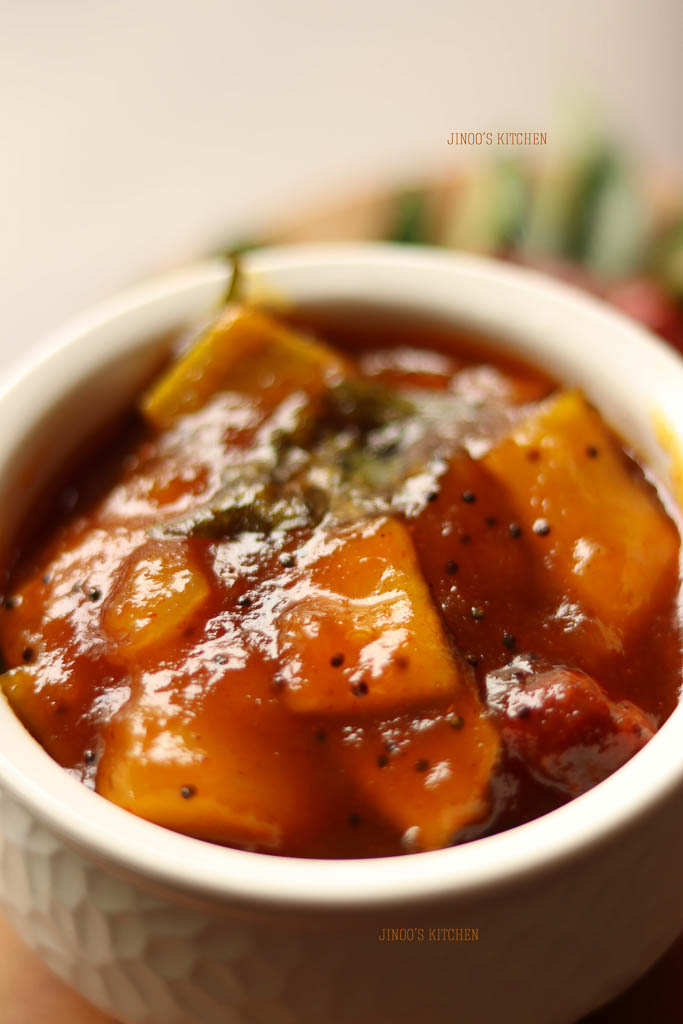 Mango sweet pachadi – video recipe
Mango pachadi recipe
Raw mango pachadi
Ingredients
1

tsp

oil

1

tsp

mustard seeds

1

pinch

asafoetida

1

no

red chilli

1

sprig

curry leaves

1

large

raw mango

cut to cubes

1

tsp

salt

1/4

tsp

turmeric powder

1/2

tsp

chilli powder

1/2

cup

water

1/2

cup

jaggery
Instructions
Heat oil in a wide pan and crackle mustard seeds and add asafoetida, red chilli and curry leaves.

fruther add chopped mango pieces, salt and fry for a minute.

mix in turmeric powder and chilli powder until well combined.

sprinkle water for the mangoes to get cooked.

close and cook until mangoes are sfot.

open and mix once, add jaggery. let it melt.

when the jaggery melts, mix and let it shrink until it gets to a jam-like consistency. Do not over mix to mash them.
Video
How to make mango pachadi recipe – with step pics
Firstly, lets clean and chop the mangoes to cubes and keep it ready. In a pan, heat oil and crackle mustard seeds, asafoetida, red chillies, and curry leaves. let it crackle.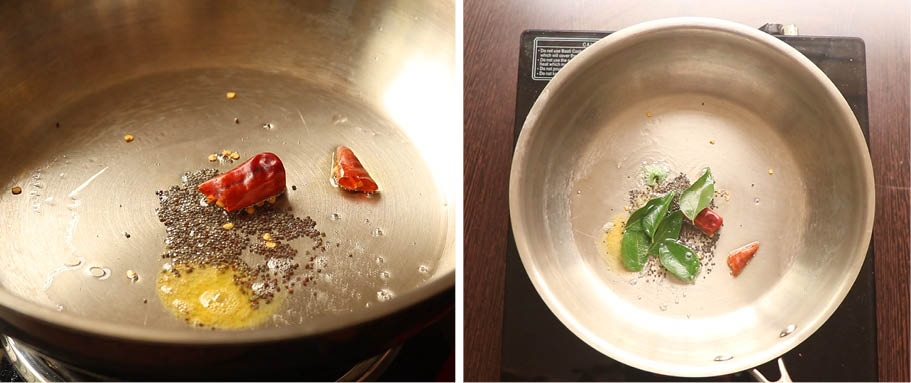 When it crackles, add the raw mango pieces and salt to taste. Mix well and fry for a minute.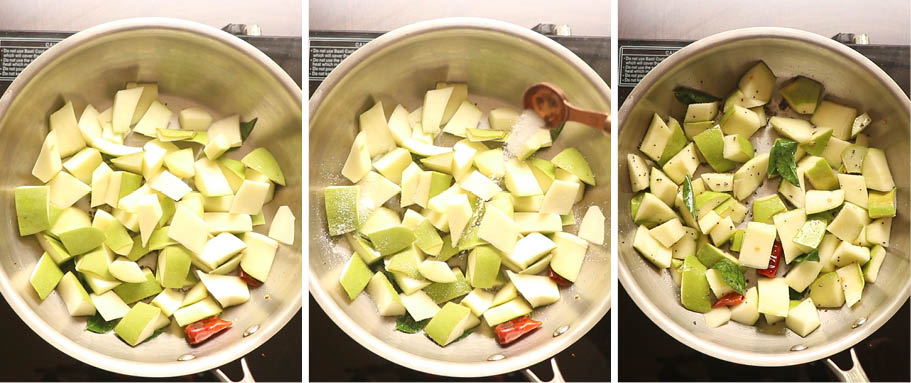 After a minute of frying, add turmeric powder and chilli powder. mix well to combine.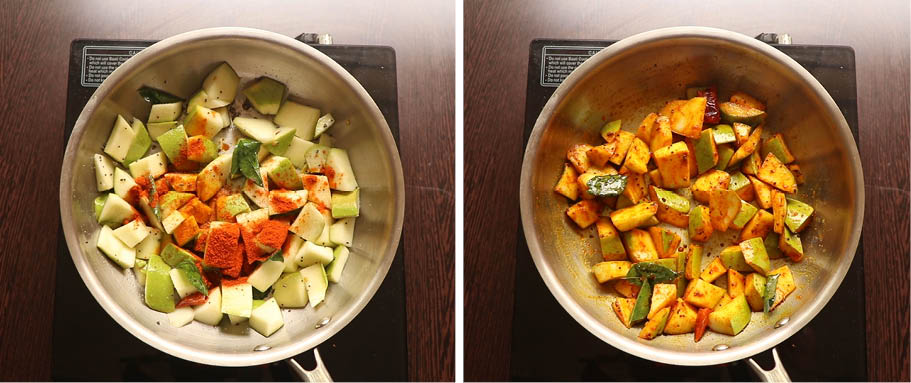 add a little water for the mangoes to get cooked. close and cook in medium heat until the mangoes are soft and cooked.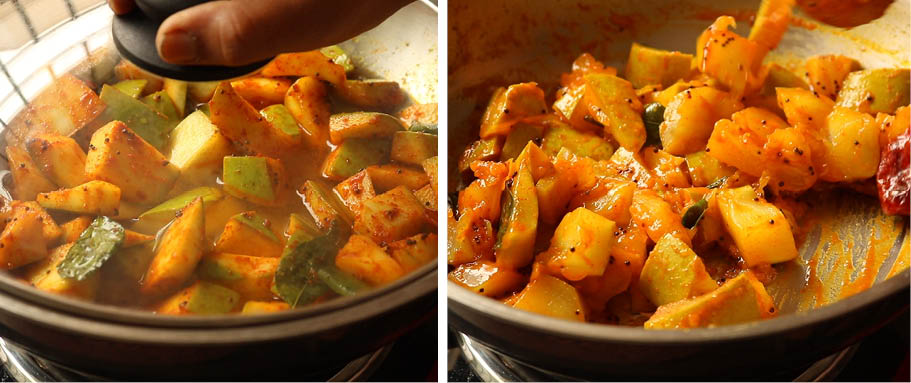 when the mangoes are cooked, add the jaggery. If you feel your jaggery variety may have impurities, then melt and filter it before using it. Mix well and let it melt to combine. The pachadi will get to a jam-like consistency. avoid too much stirring as it may mash the mango pieces and leaves just the mango skin in the pachadi.