Vegetable Biryani recipe is flavor packed rice recipe with goodness of vegetables and mildly spiced.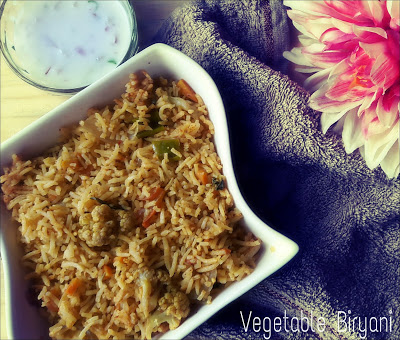 Check out some of the variety rice recipe here.
Check out curd rice, curry leaves rice, Tomato rice, Mushroom Biryani, Thenga Manga Pattani sadham, Ullichoru, Street food style fried rice, Ghee rice, Ari Parupu choru
I remember going to a birthday party where i was served with vegetable biryani. It was at my neighbors place and am not very fond of variety rice but there i had to take back my thoughts about it. The vegetable biryani i had that day was super awesome. It was very mildly spiced and flavored as there were too many kids at the party. the fried bread pieces  in between and ghee flavor took the recipe way far from what i thought about Vegetable biryani.
generally being a non veg addict, I was not much into vegetable rice. Am still to decode the Biryani recipe that i had at their house. will be posting up shortly 🙂
Vegetable Biryani Recipe