Jackfruit Choco Muffins -Jackfruit muffins
Jackfruit muffins – Jackfruit Choco muffins with step by step pictorial and video recipe.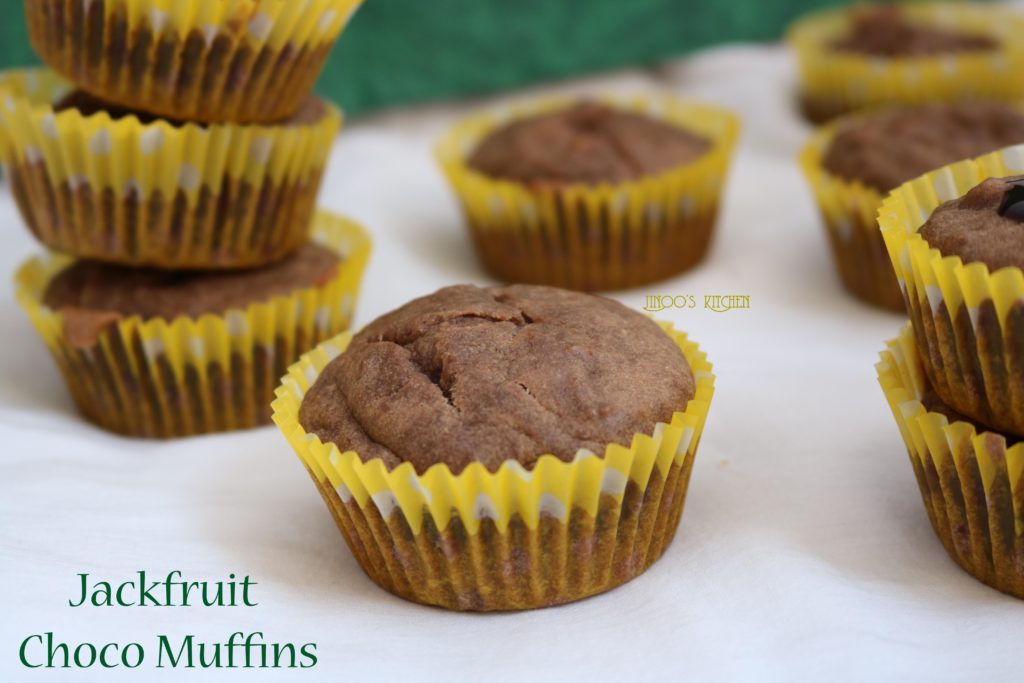 Jackfruit was piled up in my fridge and was very ripe and i wanted to use them for my kid in some or the opther way. He loves jack fruit and little bit of chocolate flavor, He eats it up in no time.
Check out my super hit Choco beet muffins,Wheat Choco Banana muffins recipe as well.
Jackfruit muffins video recipe:

Check out my Youtube channel for more easy video recipes
Jackfruit muffins pictorial directions:
Ingredients needed: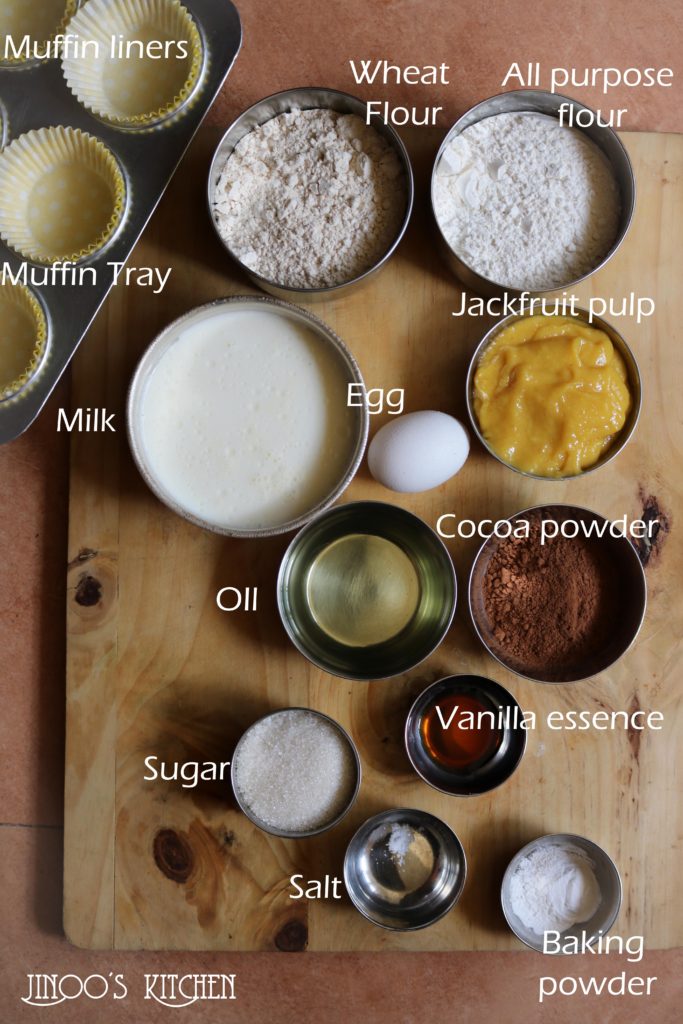 Gather all the ingredients for your baking.
Preheat the oven to 180 deg Celsius.
Now begin with the wet ingredients :
Put together jack fruit pulp, egg, vanilla essence, sugar and oil.
Mix well with whisk or with beater until well combined and smooth.
Add milk little at a time and keep stirring until smooth.
To make jackfruit pulp, just grind the De-seeded jack fruit until smooth. Use only fully ripe fruit
Now sieve in all the dry ingredients:
If you have ample time and not a lazy one like me, then pls. mix together all the dry ingredients in a separate bowl . sieve them and keep it ready. So that it can be added little at a time and mixed well.
Care to be taken not to over mix as the muffin tends to lose its softness if over worked. Just mix it until well combined.
Wheat flour is used which may retard the softy soft nature of muffins. I prefer the scale on healthy side when compared to completely using maida. So i have used half maida and half wheat. You can replace wheat with all purpose flour(maida) if you want softy soft muffins. This will be slightly soggy.
Add wheat flour, all purpose flour, cocoa powder, salt and baking powder and seive them onto the wet mix.
Mix just until well combined
Pour the mixture into the muffin tray lined with muffin liners. Fill 3/4th of it. I have used very minimum baking soda in this recipe, so the rise will be limited. So you can fill till 3/4th of the liners.
Preheat the over to 180 deg c and bake them for 15-17 minutes. To say exactly, i baked them for 16 min.
Let it cool and then enjoy!!
Jackfruit muffins recipe:
Jackfruit muffins
Ingredients
1

cup

wheat flour

1

cup

all purpose flour

1

cup

milk

1

cup

jackfruit pulp

1

large

egg

1/2

cup

oil

3/4

tsp

baking powder

1

tsp

vanilla extract

1/8

tsp

salt

1/4

cup

cocoa powder
Instructions
preheat oven to 180 deg c


Gather egg, jack fruit pulp, oil, vanilla essence and sugar in a bowl. Mix until smooth.


Add milk little at a time while stirring


Sieve all the dry ingredients (Wheat flour, all purpose flour, salt, baking powder and cocoa powder.


Add the dry mixture into wet mixture little at a time and mix until combined.


Line the muffin pan with liners and pour the mixture to 3/4th of it.


bake at 180 deg c for 15-17 min.