Chundum Payarum recipe | Vazha koombu Payaru thoran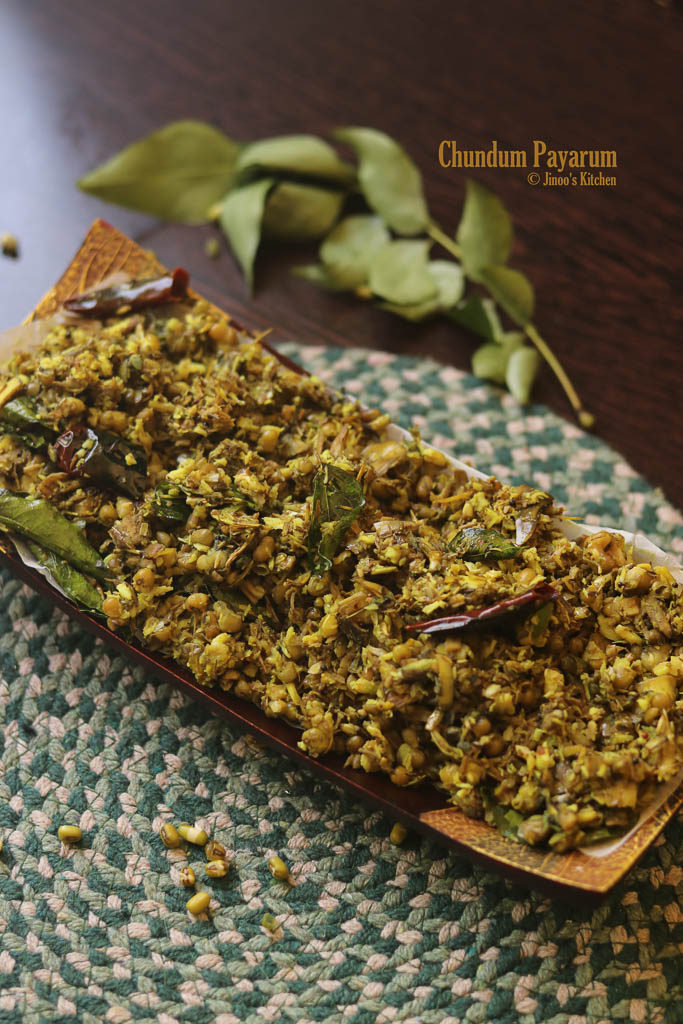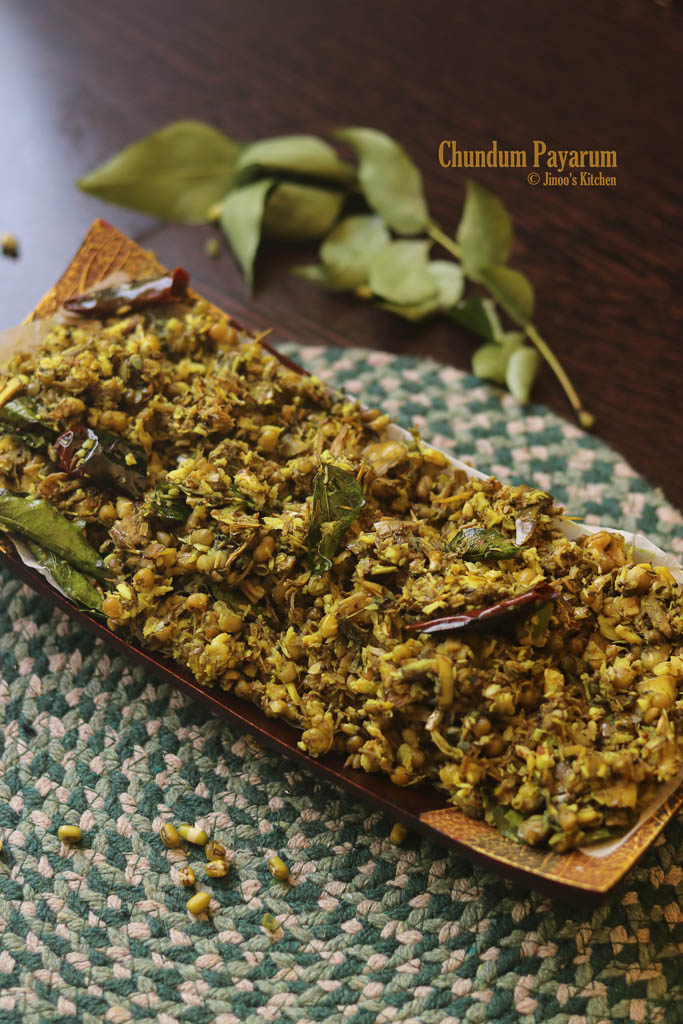 Chundum Payarum recipe – Banana flower thoran which is also known as Vazhakoomb/ vazha chundu thoran in Kerala. One of the healthy side dish recipe for rice.
The method of preparing the banana flower is a little different from the regular cleaning process. In the regular banana flower cleaning process, we simply remove the florets from the outer bracts and discard the calyx and pistil from them.
But for this recipe, we need the innermost pale yellow part of the banana flower where we are going to chop it as such. The florets in innermost layers are generally very much tender and can be cut as such without removing calyx/pistil.
Always, while cleaning Banana flower, have the buttermilk ready besides. so that the chopped florets can be soaked it in until use. One reason, it doesn't get oxidized turning black. Another reason is that it removes off bitterness to some extent. Alternatively, you can also use water + lemon juice or water+ vinegar to soak them.
Some of the banana flower recipes – Vazhai poo recipes: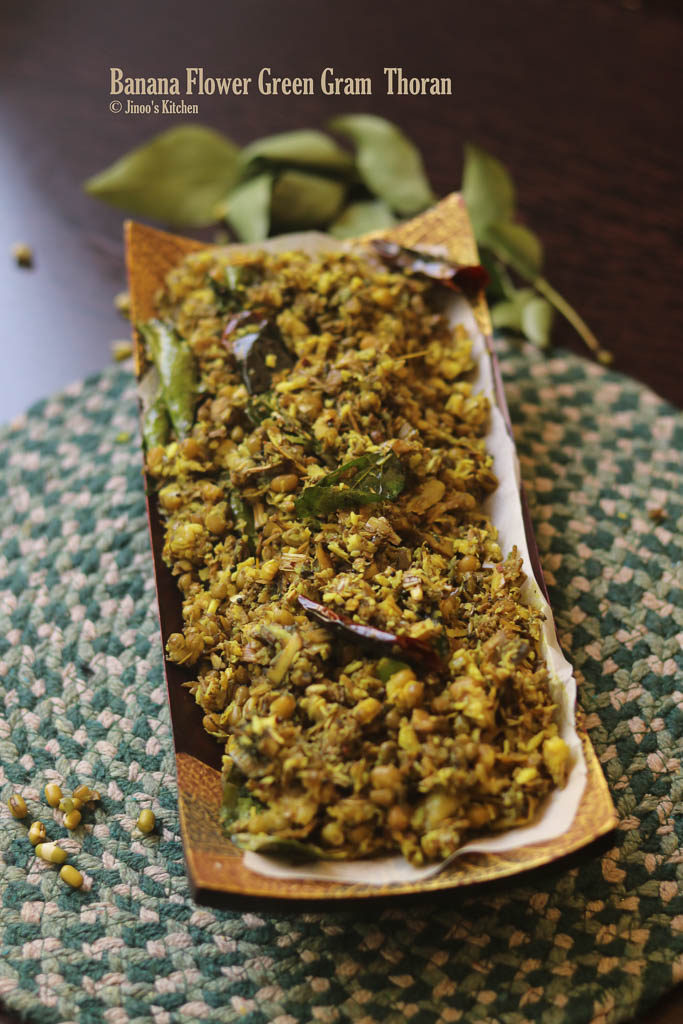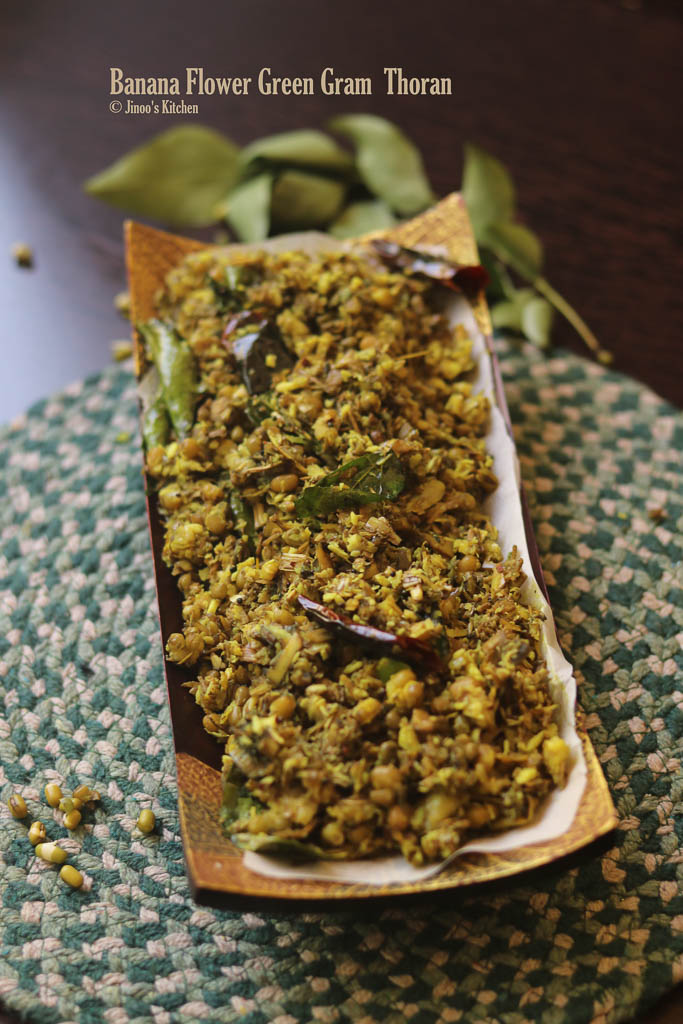 ---
Chundum Payarum recipe quick video:
Quick video recipe:
Chundum payarum thoran
Ingredients
to grind
1/2

cup

coconut

2-3

nos

small onions

1

no

green chilli

1/2

tsp

turmeric powder
Other ingredients
1

no

banana flower

1/2

cup

buttermilk/curd

mixed with 2 cups water

1

cup

green gram

2

tbsp

coconut oil

1/4

tsp

mustard seeds

1

no

red chilli

2

sprig

curry leaves

1/4

tsp

turmeric powder

salt to taste
Instructions
Grind together coconut, small onions, green chilli and turmeric powder to a coarse paste without adding water.

Clean the banana flower, take the innermost pale yellow part and make it slits all over and chop it very finely.

Soak it in buttermilk until use.

Pressure cook the green gram with salt to 2-3 whistles. Drain and keep it aside until use.

Heat coconut oil, crackle mustard seeds, red chilli and curry leaves.

To this, add the chopped and drained banana flower and cook until soft.

add turmeric powder, salt and mix well.

further, add coconut masala and cook till raw smell leaves.

lastly, add the cooked green gram and mix once.

cook for another 1 minute and serve hot.
Video
---
Vazha koombu Payaru thoran with step by step pics:
Cook the Green gram:
Firstly, In a pressure cooker, cook the Green gram with salt and enough water for 3-4 whistles. I generally soak the green gram overnight. If you are not soaking them, pressure cook for a even longer time. It should not be mashed but soft.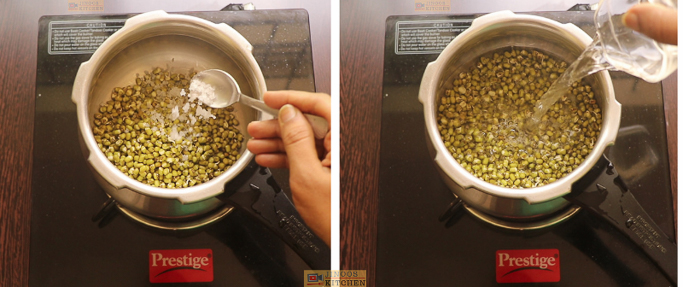 Prepare the coconut masala:
Grind together coconut, small onions, green chilli, turmeric powder without adding water to a coarse paste.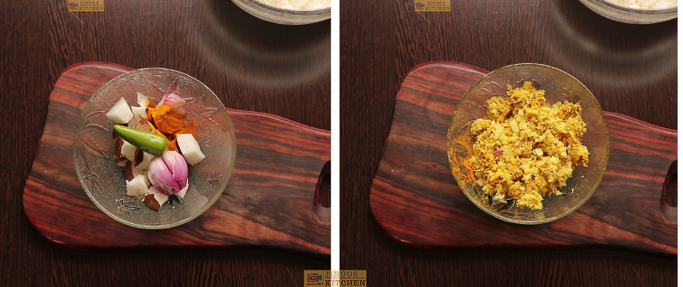 Prepare the banana flower:
1.Take the innermost pale yellow part of the banana flower. Turn it upside down.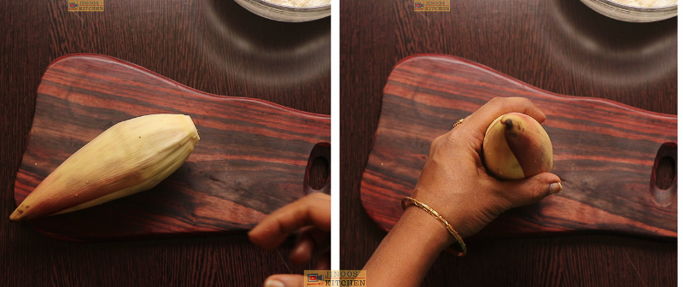 2. With the sharp knife make slits all through in all directions and chop it off. Watch the video for better clarity.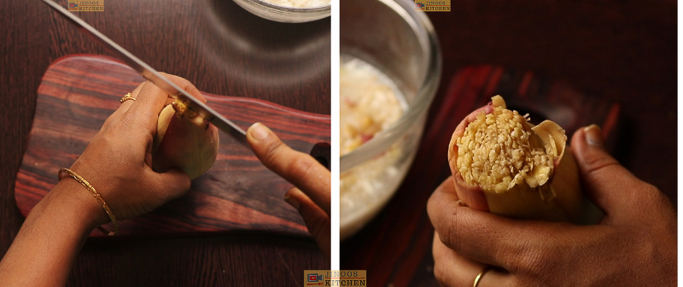 3. Repeat the process and make slits and chop it off until the entire flower is chopped off.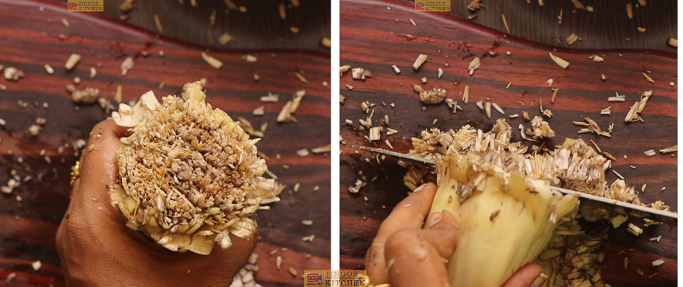 4. Each time the flower is chopped put them in a bowl with the buttermilk. Do not delay as it turns black immediately. Mix it once and let it soak until use.
For making thoran:
1.Heat oil in a pan and crackle mustard seeds, curry leaves and red chillies. Drain/squeeze the buttermilk out of the chopped banana flower and add it to the tempering.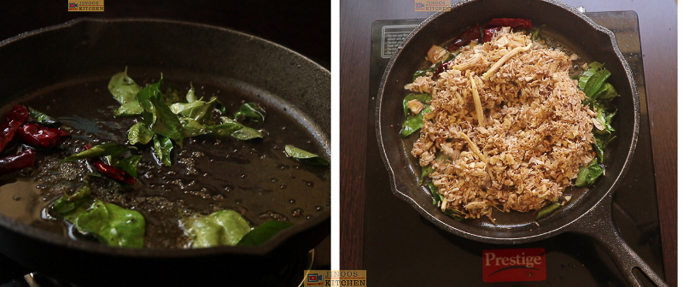 2. Cook the banana flower until soft. water in it is sufficient to get cooked. If not, sprinkle little water. Keep stirring so as to get cooked evenly. Later, add turmeric powder and salt.
Note:
Salt needed is for the banana flower and coconut masala. Green gram is already cooked with salt.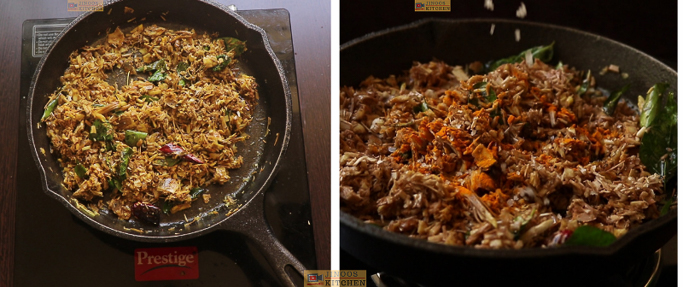 3. Add the coconut masala and mix well.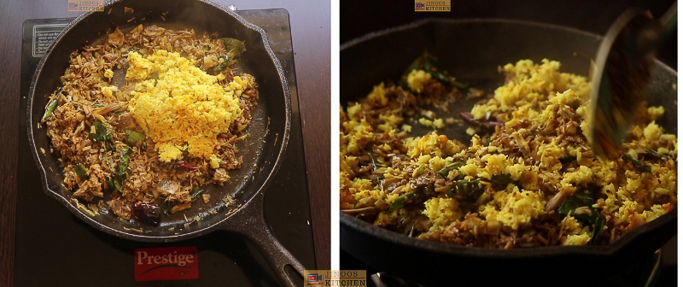 4. Cook till the raw smell leaves and it is well blended. At this stage, cooked green gram is added.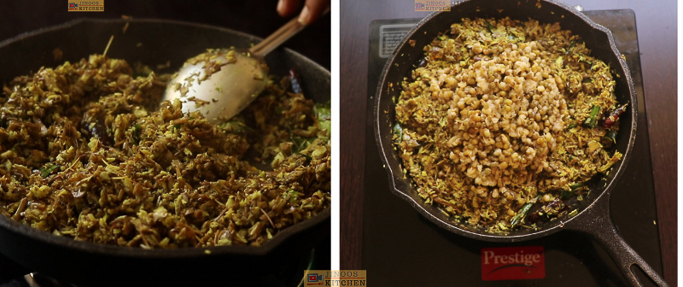 5. Mix well and cook for another 1-2 minutes on a medium heat. Put off and serve hot.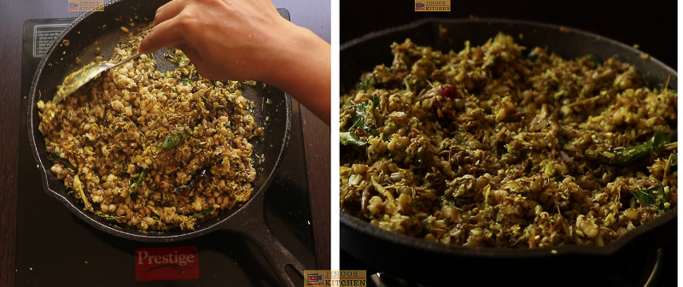 6. Serve this delicious green gram banana flower thoran with rice and moru curry.