Kerala Chilli Chicken Dry recipe | ചിക്കൻ 65 dry restaurant style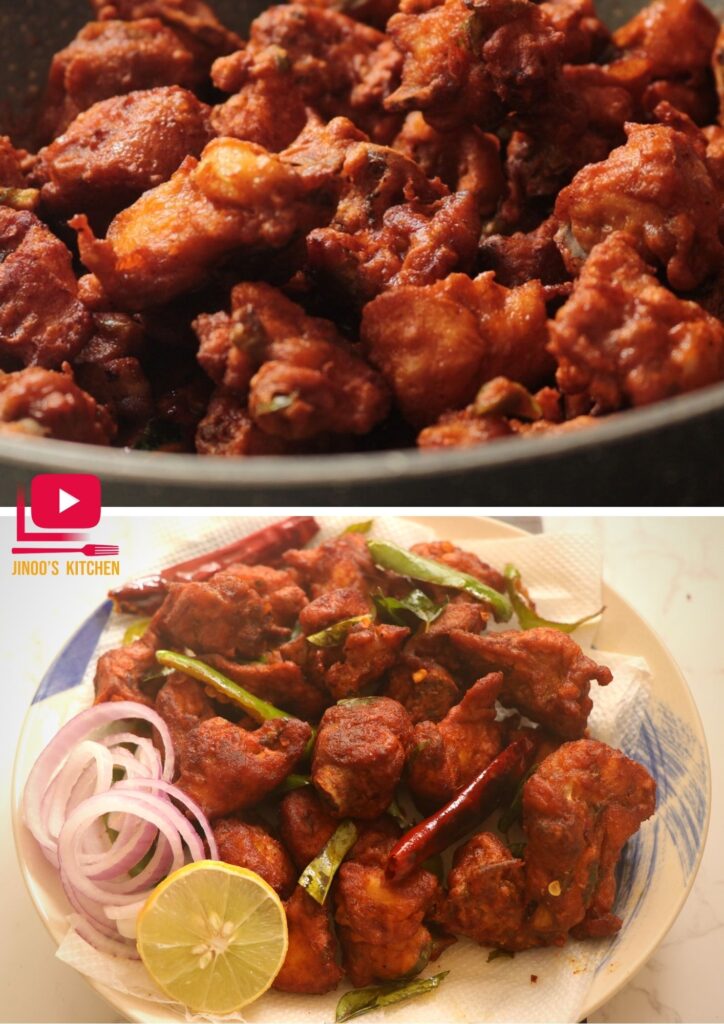 Chilli chicken dry recipe – How to make Kerala style chilli chicken recipe dry version restaurant style. Chilli chicken is very popular starters in non-vegeterian and is found in most of the multicuisine restaurants.
1. Question block:
What is chilli chicken?
Chilli chicken is a popular Indo-Chinese dish of chicken originating from Chinese cuisine. In India, this may include a lot of variations in preparing the starter. Though mainly boneless chicken is used in this dish, some recipes call for chicken with bone. both taste equally good.
How is Kerala style chilli chicken made?
In this recipe, there isn't any soya sauce or vinegar used which is typically used in any chilli chicken and the sauce base is purely South Indian. It is commonly found in many thattukada, street side food stalls.
Is chilli chicken saucy or dry?
While the normal chilli chicken Indo Chinese styles can be made both saucy and dry, this recipe is without any tomato sauce or soya sauce, and it tends to be a little drier and crispier.
What are the accompaniments with chilli chicken?
This dry chicken recipe can be simply had as a starter or with any of the rice varieties like neichoru, fried rice, chicken fried rice, curd rice, or with plain rice and rasam, It can also be served with Biryani.
What are the other chicken starter recipes?
2. Chilli chicken Kerala style Video recipe
3. Ingredients for making chilli chicken
2 tsp chilli powder
1 tsp coriander powder
1/2 tsp garam masala
1/4 tsp turmeric powder
1/4 tsp pepper powder
10-12 cloves garlic
1 inch ginger chopped
1/2 kg chicken (with bone)
salt to taste
1 scoop thick curd
2-3 tbsp cornflour
2 tbsp rice flour
1 large egg
1 sprig curry leaves chopped
oil for frying
to crush coarsely:
15-18 cloves garlic
2 no green chilli
to make sauce

1 tbsp oil
2 no green chilli
2 no red chilli
1 sprig curry leaves
salt a pinch

to garnish
4. How to prepare Kerala Chilli Chicken Dry
Firstly we need to grind few ingredients into a fine paste. Grind together chilli powder, turmeric powder, coriander powder, garam masala, pepper powder, garlic, ginger. make it a paste and reserve 2 tsp of the masala for making sauce later.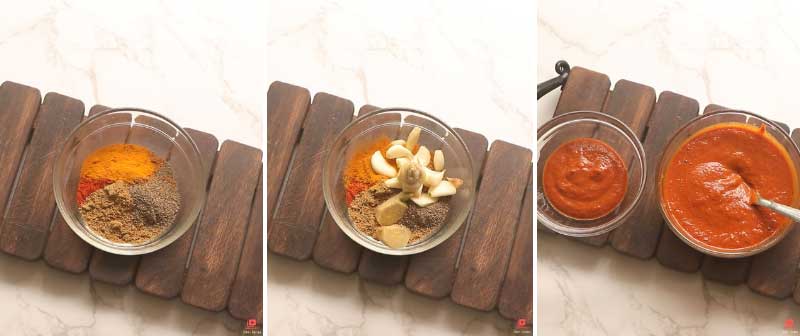 In a clean bowl, take washed chicken pieces with bone and add salt, prepared masala and thick curd. Mix everything together with the chicken pieces, Massage it to the chicken pieces and use hands and not spoon.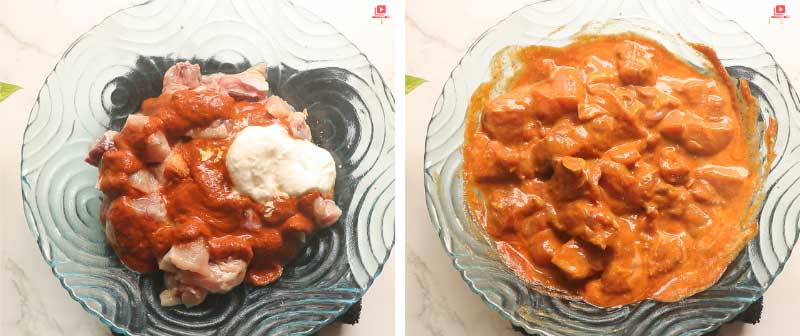 Add corn flour, rice flour, beaten egg and mix well. Some recipes, use maida for coating, but corn and rice flour does the job well.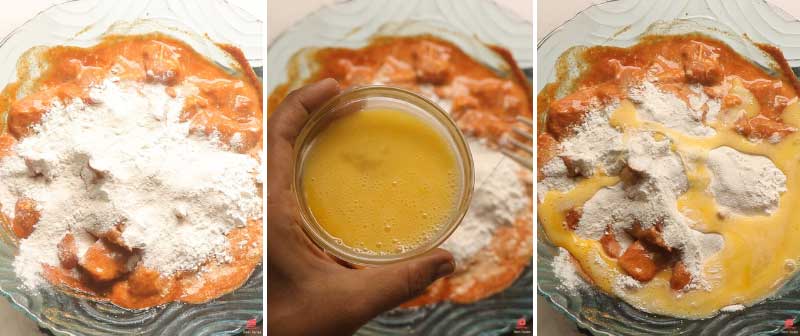 lastly, crush few garlic cloves and green chilli coarsely and add it to the chicken, the bite of crushed garlic and green chilli gives it an extraordinary taste. Also add chopped curry leaves and mix everything together. Marinate it for an hour minimum.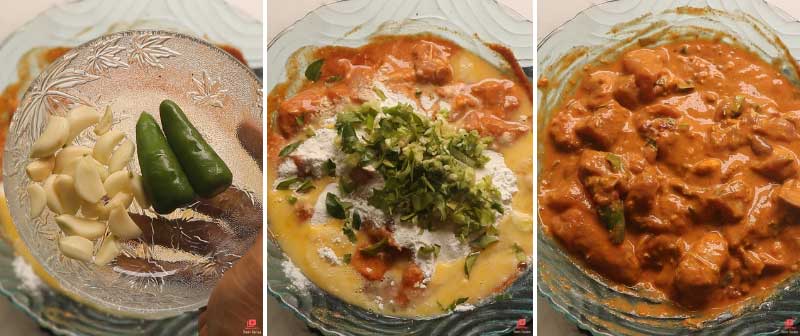 Heat the oil in the pan and deep fry the pieces in medium flame until golden and crisp all over. Strain it to a paper towel. keep it aside.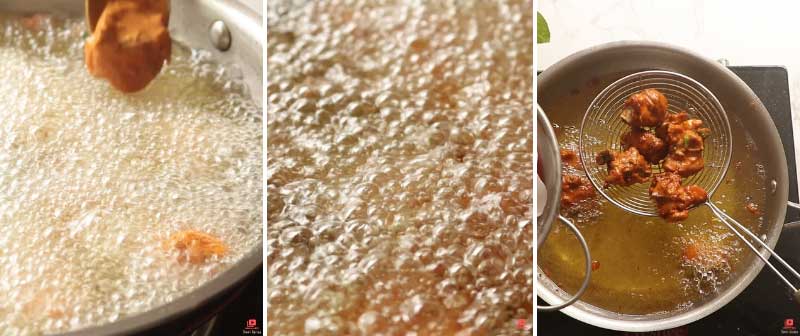 In another pan, add 1 tbsp of the oil uised for deep frying. add green chillies, red chillies, curry leaves and saute till crisp.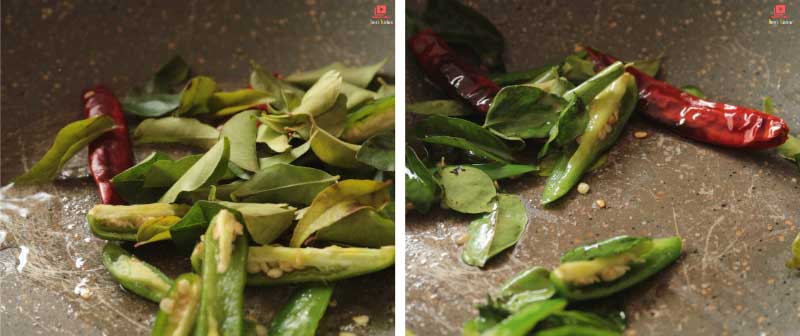 add the reserved masala from step 1 with a pinch of salt. mix and let it come to a boil. add a little water if needed to avoid the masala from getting burnt.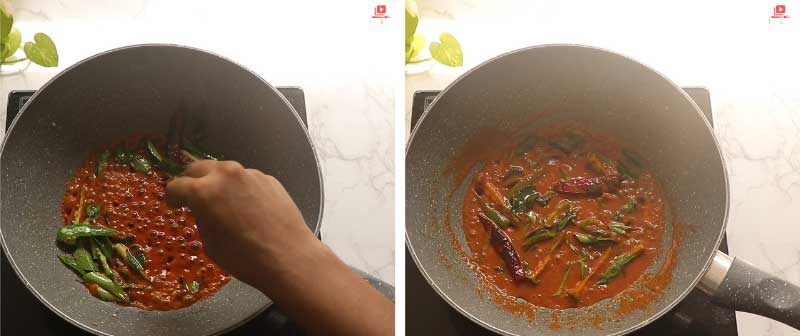 add the fried chicken pieces and toss it until well coated.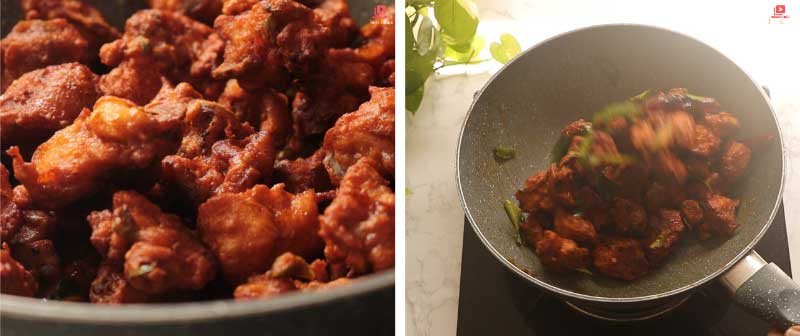 put off the flame and serve hot.